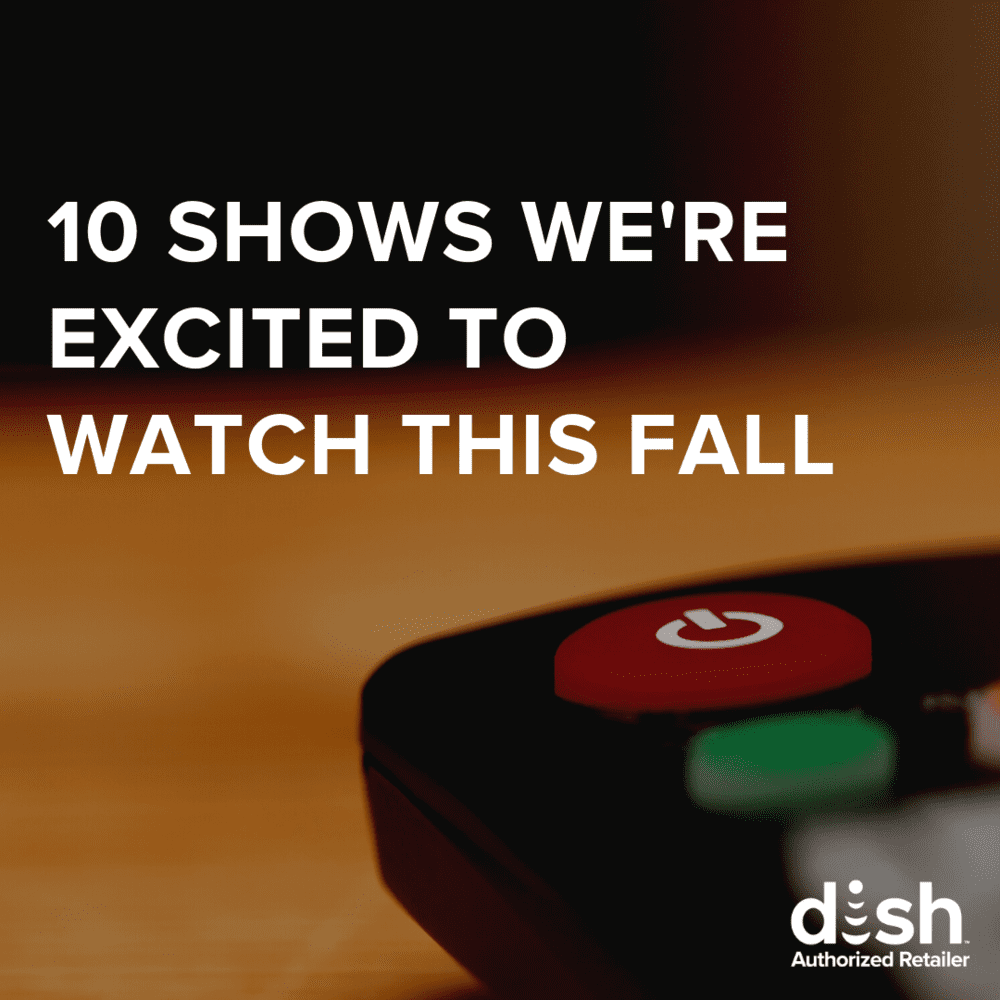 With school starting back up, the weather cooling down and Halloween decorations making their way to store shelves it could only mean one thing: fall is right around the corner! So many things happen in the fall including hot, new shows from all of your favorite networks.
From spooky and thrilling to dramatic and funny, we have something for everyone to enjoy! Whether you're catching up on a new season of your favorite show or ready for a new one to watch, we've compiled 10 buzzworthy shows for you to get hooked on this fall.
Ratched
If you are looking for a new chilling horror series to binge, then mark your calendars for September 18th. Ryan Murphy, the creator of "American Horror Story", is behind the madness of the new Netflix original, "Ratched". Based on the novel One Flew Over the Cuckoo's Nest by Ken Kesey, Netflix is bringing back to life the original character, Nurse Ratched for a 2020 makeover. The show takes place in 1947 and highlights Nurse Ratched's journey through the mental health care system. Nurse Ratched is ruthless, cold-blooded, and boasts herself as the head nurse of an inhumane psychiatric ward where we see her transform from a nurse to a ferocious beast. You can watch the series l on DISH Network's Hopper 3 DVR, through the Netflix integration. x. For a sneak peek of Ratched, click here for the preview.
The Bachelorette Season 16
If you didn't think "The Bachelorette" could get more dramatic, it just did. Back in March, ABC announced that 39-year-old hairdresser, Clare Crawley would be the 16th Bachelorette this season. Weeks later, production for the iconic reality show was put to a halt due to the coronavirus pandemic. When production resumed in July, Crawley decided she didn't want to continue filming the show because she had fallen in love with one of the contenders. So who will be replacing her? Tayshia Adams from season 23 of The Bachelor! As if that twist wasn't big enough, the show will not be filmed at the classic Bachelor mansion and instead will be filming at the La Quinta Resort & Club due to the ongoing pandemic. According to Variety, the show is expected to air sometime this fall. To catch all the drama this season, you can watch The Bachelorette on ABC which is available on any DISH Network package.
The Boys
The Amazon Prime Video original is back with season two and the first three episodes will be available to stream September 4th with a new episode weekly after that. If you aren't familiar with the action-comedy, the series is about a group of vigilantes who hunt down superheroes that take advantage of their powers known as, The Seven. This season will feature a new crooked "superhero" named Stormfront who develops into an influential figure in the show's society. The preview of the second season delivers more action, suspense and entertainment as the team continues to fight for humanity. You can watch The Boys by streaming Prime Video directly through your Hopper 3 DVR.
This Is Us
One of the most talked-about shows is back and audiences couldn't be more thrilled.
"This Is Us" is a fan-favorite drama that follows the lives of Parents Jack and Rebecca Pearson, and their children Kevin, Kate and Randall. Season 5 will feature new characters, new beginnings and of course more drama. Justin Hartley, who plays Kevin, said "Some of the relationships you're used to seeing on a certain level-that'll be flipped a little bit because of the circumstance. New things start to happen. Not all good." He added, "you'll get the same Pearson experience, laughing and crying."
The show will focus on different character's past where viewers get a glimpse of where their modern-day issues stem from. This Is Us is set to premiere sometime in September on Tuesdays at 8 PM CST though NBC isn't sure of the exact date due to the coronavirus pandemic. DISH subscribers can watch all the laughs and ears on any DISH Network package this season.
Away
Hilary Swank is ready for lift-off as she stars as an astronaut who braces herself for an adventure to Mars. Releasing September 4 on Netflix, "Away" is a cosmic drama created by Andrew Hinderaker and executive producer Jason Katims. Emma Green (Swank) is an American astronaut who is in charge of an international space team on the very first expedition to Mars. Her leadership is questioned because she struggles with being so far away from her teenage daughter and husband. Throughout the season the series focuses on the sacrifices each astronaut has to make, as they leave behind their families for three years. You can watch Away on Netflix directly through your Hopper 3 DVR.
Call Your Mom
"Call Your Mom" is a perfect show for moms who just sent their kids off to college this year. The multi-camera comedy created by Kari Lizer is about a recent "empty-nester mom" who questions why she ended up alone, while her adult children start their new lives miles away from her. She realizes her purpose is being with her family and as she inserts herself back into their lives, her children recognize how important a mother's touch really is. ABC has not set a date on when the show will air but is expected sometime this fall on Wednesdays at 8:30 PM CST. You can watch "Call Your Mom" on any DISH Network TV package.
Jurassic World: Camp Cretaceous
If you are a fan of the classic "Jurassic Park" movies, then Netflix has a special treat for you! "Jurassic World: Camp Cretaceous" is a family-friendly animation that takes place in the Jurassic Park universe. Developed by DreamWorks, the action-packed series is scheduled to debut on September 18. The animation series follows six teenagers who are invited to the Jurassic World Camp for an adventure only a few will ever get to experience. It wouldn't be a Jurassic Park series if some dinosaurs didn't escape. The teens find themselves abandoned and have no way of contact with the outside world and they quickly realize they have to depend on each other for survival. You can stream all the action through your Netflix app on the Hopper 3 DVR.
Devil's Road: The True Story of Ed and Lorraine Warren
Get into the spirit of spooky season and brace yourself for "The Devil's Road," a two-hour special about Ed and Lorraine Warren. Ed, a self-educated ghost hunter, and Lorriane, a spiritual medium have worked together to examine spiritual hauntings for 50 years.
The notorious paranormal duo inspired true, hit-thrillers such as "The Conjuring" and "Amityville Horror." The Warrens were responsible for documenting the chilling hauntings of the infamous Bridgeport Poltergeist. The special has never before heard audio of Ed leading interviews for the poltergeist case and features interviews of their daughter Judy, who has witnessed her parent's gifts firsthand. The special will debut on September 7th at 9 PM CST on the Travel Channel. You can find the Devil's Road series on channel 196 on any DISH Network package.
Filthy Rich
What do you get when you mix wealth, religion, and drama? You get the new Fox series titled, "Filthy Rich", created by Tate Taylor. This family-drama is about the super-rich southern gothic, Monreaux family, who own a very profitable Christian television network. The company is on the cusp of launching a new retail website, when the founder and husband, Eugene, suddenly dies in a plane crash leaving behind his wife Margaret, played by Kim Cattrall to take charge of the family business. The death of Eugene opens Pandora's box of secrets where the family discovers he has three different children with three different mothers, all of whom are in his will. This leaves Margaret to use her southern charisma and business know-how to be the newly appointed beneficiary of Eugene's will. You can catch all the drama unfold on September 21st at 8 PM (CST) on any DISH Network TV package.
Brother vs. Brother
The iconic twin brothers, Drew and Jonathan Scott from HGTV's "Property Brothers", are back for a new season of "Brother vs. Brother." We normally see the twins working together to create forever homes for their clients, but now the two will be competing against each other to see who can bring in the biggest profit for the charity of their choice. The two will compete in mini design challenges that are judged by other HGTV celebrities, all while trying to renovate a new home. Season 7 will take place in Los Angeles' historic Hancock Park, where the siblings will renovate "two vintage but aesthetically challenged mansions" says HGTV. The renovation competition will debut Wednesday, September 9th at 8 PM CST. You can watch HGTV on any DISH Network package starting at $64.99 per month.

With DISH Network, you get the best of both worlds! You can stream Netflix and Prime Video or watch live TV with the most powerful DVR in the world: The Hopper 3. Each of our TV packages has something for everyone to watch, all at an affordable price. Enjoy all the best lineups to debut on TV this fall with DISH Network.