DISH appears to be moving one step closer to its promised 5G network with the launch of "Project Gene5is" on June 15, 2021. The 22-word website, first reported by Axios, offers very little information on the network itself but does allow users to sign up to be alerted when the network is available in their area.
While the announcement of its initial launch in Las Vegas, Nevada came earlier in 2021, DISH Wireless has continued to commit to launching 5G networks in a variety of markets. Many urbanized cities are being monitored as future markets, however, providing rural markets with high-speed connections has been a goal of DISH Wireless since the beginning. Having experience delivering underserved markets pay-TV services, DISH is looking to provide these types of markets with faster connections using a greenfield design, software-based and cloud-native infrastructure, and network slicing powered by 5G.
Launching a 5G network nationwide is going to take some time, but DISH Wireless is in a bit of a time crunch to get things done. Due to the rules and guidelines set forth by the FCC that allowed DISH Wireless to become a major wireless provider in the United States, the company only has until June 14, 2023, to cover 70% of the population under AWS-4 and E block licenses and 75% of the population in AWS-H block license areas. If however, DISH WIreless can reach 50% of the population with those bands, it will receive an extended deadline to June 14, 2025.
What We Know About The Brand "Project Gene5is"
There is still a lot we don't know about "Project Gene5is" at this point, including whether or not it will be DISH's primary brand for its 5G network. Here is what we do know from this website:
While the website itself does not mention the DISH brand, the privacy policy does confirm the relationship between "Project Gene5is" and DISH Wireless.
The meta description for the website refers to "Project Gene5is" as "a 5G company building powerful 5G networks".
Within the privacy policy is the mention of "a new 5G wireless network (the 'Genesis Service')."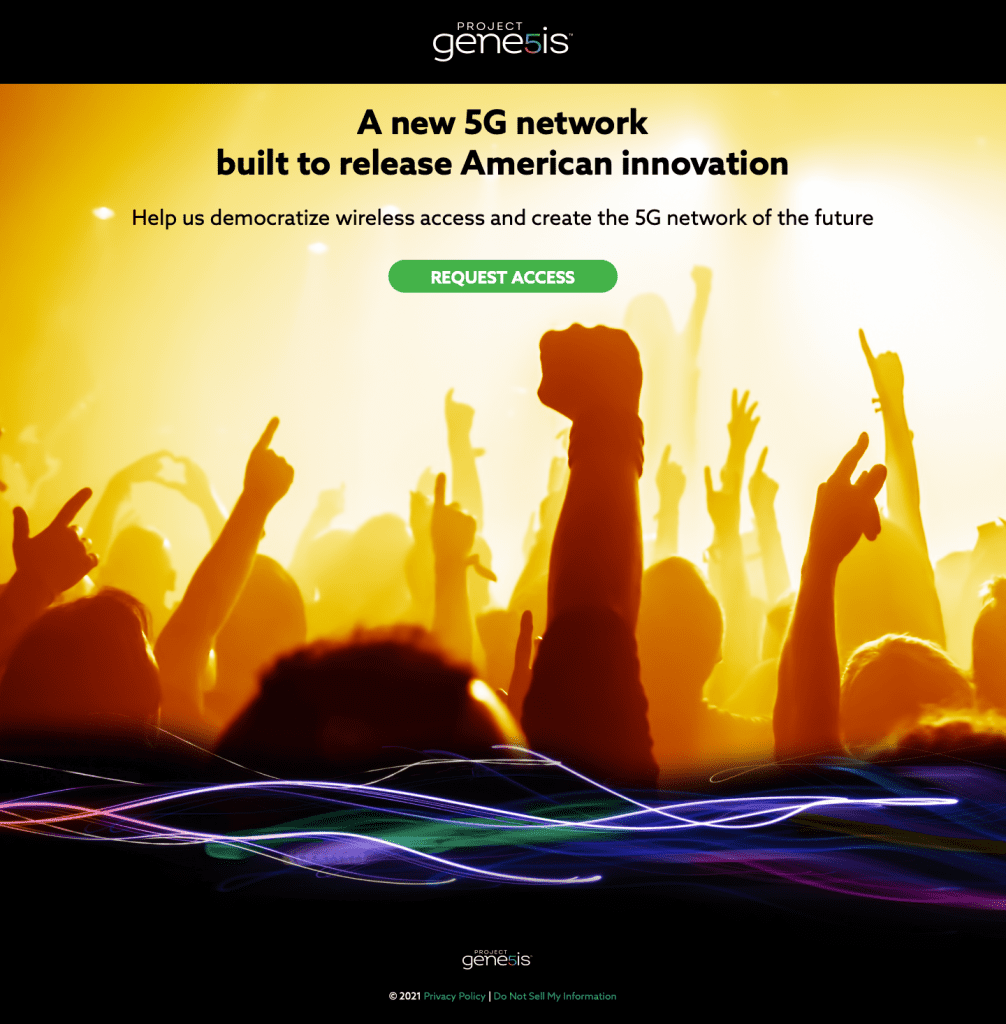 Stay Up to Date with "Project Gene5is" and DISH Wireless!
GoDISH continues to be committed to bringing you the latest news and information on DISH Wireless and their 5G Network. Read the latest stories as more information becomes available about "Project Gene5is" and all of DISH's 5G network advances.
GET NOTIFIED WHEN DISH WIRELESS BECOMES AVAILABLE IN YOUR AREA!