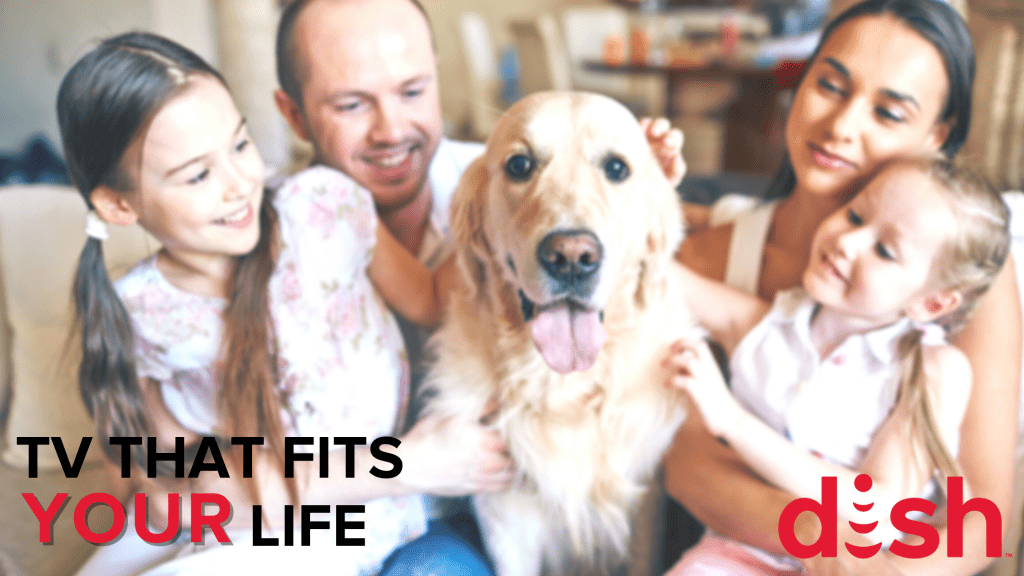 DISH Lifestyle Packages offer dedicated content that fits the diverse lifestyles and interests of families across America. With several channel packages including the Heartland Package, Outdoor Package, and Dog TV, these add-ons complement any of our DISH channel packages.
The Heartland Package is Full of Family-friendly Fun
The Heartland Package is an add-on for DISH Network customers which focuses on a blend between family-friendly content for both children such as Discovery Family and BabyTV and content geared more towards adults such as the Hallmark Channel and Oprah Winfrey Network.
You'll feel at peace knowing that your children are entertained, yet protected with age-appropriate programming that is fun and educational, and when it's time to enjoy more adult content, you are still gifted with plenty of family-friendly choices. Offering 12 robust channel options, the Heartland Package delivers a solid range of content to your family. Learn more about the Heartland Package.
| | | |
| --- | --- | --- |
| Channel Name | Content Description | DISH Channel Number |
| BabyTV | A baby-focused channel with shorter shows that encourage interaction between both baby and parent. | 824 |
| Discovery Family | A vibrant mix of family-friendly content full of educational, adventitious content. | 179 |
| Hallmark Channel | Enjoy a variety of wholesome and uplifting shows and movies. | 185 |
| Hallmark Drama | Watch all of your favorite timeless classics, dramas, original movies and series. | 186 |
| Hallmark Movies & Mysteries | A channel dedicated to a deep collection of movies and mysteries. | 187 |
| Oprah Winfrey Network | Inspirational programming that entertains, uplifts, and educates. | 189 |
| PixL | Commercial-free, PG-rated shows and films. | 388 |
| RFD-TV | Family-friendly programming with a focus on rural activities, farming, horses, and country music. | 231 |
| Ride TV | An equestrian's dream, Ride TV focuses on 24/7 horse-related content. | 248 |
| Rural TV | Rural based content including shows focused on farming, horses, and country music. | 232 |
| UPtv | Known for uplifting, inspirational shows and movies. | 188 |
| The Game Show Network | Original game shows and classics you love with both new and old episodes to enjoy. | 116 |
The Outdoor Package Brings Nature to You
Enjoy the great outdoors from your living room with various nature-based shows mixed with plenty of recreational content. Home to several outdoor-centric channels including the Outdoor Channel, Outside Television, Sportsman Channel, and World Fishing Network, you'll have plenty to choose from for only $4 a month:
| | | |
| --- | --- | --- |
| Channel Name | Content Description | DISH Channel Number |
| Outdoor Channel | The closest you can get to having an outdoor adventure without actually going outdoors. | 396 |
| Outside Television | All of the best outdoor recreational activities you know and love including surfing, skiing, and more. | 390 |
| Sportsman Channel | Packed full of tips and tricks, the Sportsman Channel shows you all the outdoor adventures you love while teaching you in the process. | 395 |
| World Fishing Network | From relaxing streams to the depths of the oceans, see the best fishing content available. | 394 |
DOGTV is the First Channel Made for Dogs
If you're looking to keep your pup company while you're away from the home or learn how to properly cook a meal for your four-legged friend, DOGTV is focused on canine content. It's the perfect addition for dog lovers looking to enhance their viewing pleasure as well as their dog's.
Located on channel 285, DISH Network subscribers can add DOGTV to their channel package for $4.99 a month. The programming is backed by science to provide both relaxing and stimulating content for your dog to enjoy.
GoDISH is Here to Fit Your Lifestyle
Helping customers find the right channel packages and add-ons is at the core of what we do here at GoDISH. Our team of experts works to ensure that you have access to all of the content you desire, the ability to bundle your home's television services with top-rated Internet service providers, and less hassle when setting up your service. Contact GoDISH today and find the right channel packages to fit your lifestyle today.