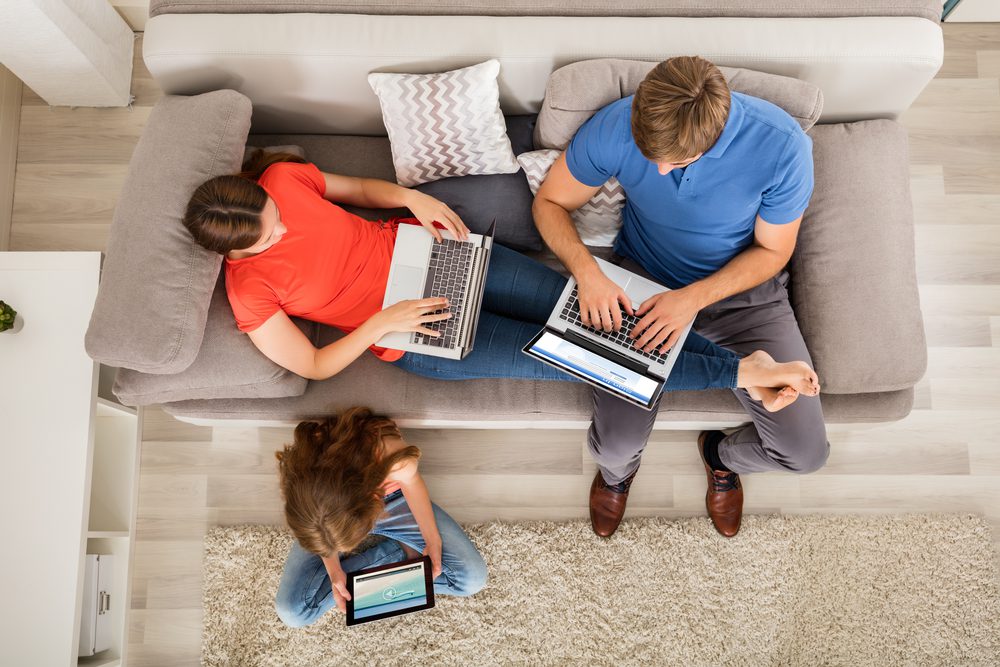 GoDISH is proud to offer DISH Network subscribers several Internet options to bundle with their television packages. DISH's diverse programming offerings allow you to find the right entertainment package to fit your needs and budget. This diversity continues through GoDISH's partnerships with many top Internet service providers (ISPs) brands such as AT&T, HughesNet, and Viasat. Many factors go into selecting an Internet company for your home. Your needs, your home's location, and of course, the price of your desired services will all have a part in deciding which ISP is right for you. To learn more, take a closer look at the various ISPs available for DISH subscribers or contact the team at GoDISH to get started.
| Internet Service Provider | Starting Price | Connection Type | Download Speeds | Data Cap |
| --- | --- | --- | --- | --- |
| AT&T | $49.99 | Fiber | 5-940 Mbps | 1 TB-Unlimited |
| CenturyLink | $49.00 | DSL | 20 Mbps | 1 TB |
| Frontier FiOS | $29.99 | Fiber | 50 Mbps | Unlimited |
| HughesNet | $49.99 | Satellite | 25 Mbps | 10 GB |
| Kinetic by Windstream | $19.99-37.00 | Fiber | 1.5-200 Mbps | Unlimited |
| Viasat | $70.00 | Satellite | 12 Mbps | 15 GB |
| Xfinity | $19.99 | Cable | 50 Mbps | 1 TB |
Shop and Compare Internet Providers
GoDISH partners with many different ISPs to deliver DISH Network subscribers the Internet services they deserve. Due to satellite television's extensive reach, we understand that each market is unique and some homes will require different features from their Internet services. Compare some of the hottest brands in the Internet landscape below and see what each company is bringing to the table.

*Some speeds, connections, and data caps may vary by availability due to your home's location, signal allotted, packages available, and other factors.
Bundle Top Internet Service Providers With DISH Network
Each ISP delivers its service differently. While some providers may not be available in your area, many of the brands available for bundling DISH Network with the Internet services you desire are widely available with focuses within specific markets.
AT&T
AT&T is one of the most well-known brands in telecommunications history. A pioneer in developing telephone services, AT&T is now available through a variety of services including high-speed Internet. DISH Network subscribers can bundle its fiber Internet services for some of the fastest speeds in the country. It may also offer DSL or fixed wireless Internet connections depending on your location. AT&T, especially when it comes to fiber Internet, is focused heavily on urban markets.
CenturyLink
DISH Network customers looking to subscribe to a quality DSL network can take advantage of its partnership with CenturyLink who provides incredible Internet connections in over 30 states throughout the country. CenturyLink subscribers can secure their monthly rate with its "Price for Life" offer when they bundle their DISH Network satellite television services.
Frontier FiOS
Across 39 states, you can find Frontier supplying millions of homes with quality Internet options including wireline and DSL connections. Frontier FiOS is the fiber network option that is being offered to customers in limited markets; however, Frontier is continuing to invest and grow its availability. A fantastic Internet option where it is available with download capabilities reaching mind-blowing speeds.
HughesNet
HughesNet provides the Internet via satellite to its subscribers. This means its services are available virtually anywhere in the United States. One of the only satellite Internet providers in the country, HughesNet supplies reliable service to many rural and underserved marketplaces in need of quality connections. With signal reliability almost at 100% (99.99%), HughesNet continues to build on its reputation as an ISP subscribers can trust as they have since 1996.
Learn more about bundling HughesNet with DISH
Kinetic by Windstream
Windstream launched Kinetic at the beginning of 2019 and is a high-speed, fiber Internet connection option for millions of Americans across 18 states. Your price will vary by location as the company uses a tiered system to determine your home's monthly rate; however, once you are connected you will enjoy smooth, lightning-fast download speeds and a positive user experience that can be combined with your DISH Network subscription through bundling.
Viasat
The other major player in satellite Internet, Viasat brings reliable Internet services throughout the United States and can complement any DISH Network TV package. Viasat continues to focus on rural markets with a lack of access to wired Internet networks and has built a reputation as a reliable provider to more than half a million subscribers.
Xfinity
Xfinity is a brand from Comcast that is providing Internet download speeds that can challenge any other company in the country. Beyond mind-blowing speeds, Xfinity has ramped up its efforts to expand its fiber network, although its cable Internet option is also no slouch. 22 million subscribers enjoy trustworthy connectivity across 41 states and Xfinity is the perfect bundling option for DISH Network subscribers.
Start Bundling Your Internet Services With DISH Network
DISH Network subscribers have plenty of Internet options to bundle with their new or existing DISH network TV package. If you are ready to learn more about bundling your home's Internet services with an amazing entertainment package from DISH Network, GoDISH is here to help. Our team of experts can find the perfect bundling options down to your home's very address. This allows us to find the best possible options available to you and create a customized bundle based on your needs.