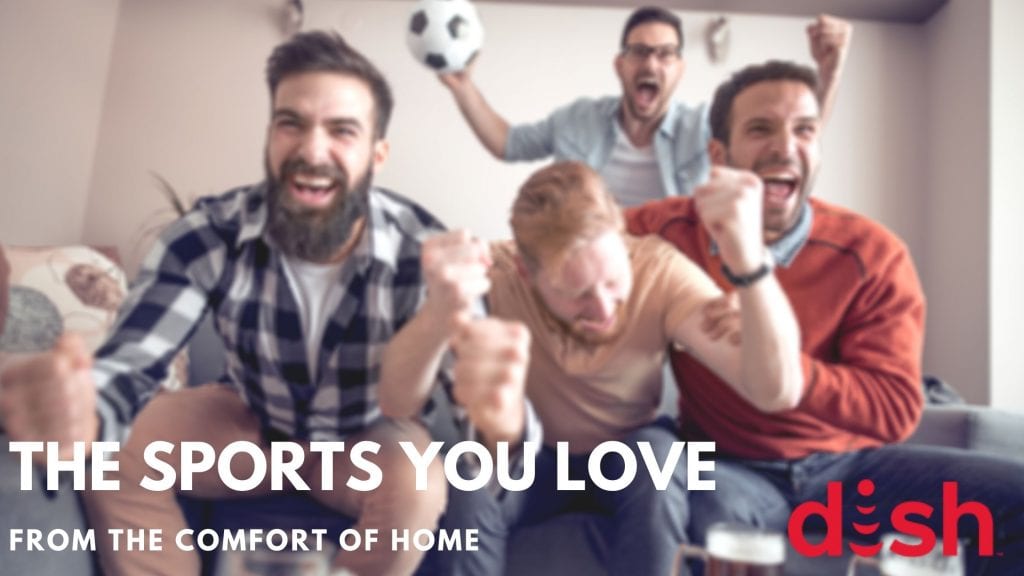 DISH Network subscribers are presented with a wide variety of sports packages that deliver top-quality content, analysis, highlights, and more. Get to know DISH Network's variety of sports add-ons or sign up today through GoDISH.
Multi-Sport Pack:
DISH Network is bringing sports lovers more through its Multi-Sport Pack. Subscribers get access to a variety of quality sports across several channels and leagues such as Regional Sports Networks, college games, professional sports, and more for only $13 a month.
The Multi-Sport Pack requires a subscription America's Top 120 Plus or higher or DishLATINO Max and adds games, shows, and more to your viewing experience including:
The Multi-Sport Pack is the most inclusive sports package from DISH, with coverage of both professional and college leagues. Whether you are looking to catch some conventional sports like football, basketball, baseball, hockey, and soccer, or more niche sports like tennis, rugby, and MMA, this package includes it all! The Multi-Sport Pack comes with 35 major networks including:
ACC Network
AT&T Sportsnet
beIN SPORTS
Big Ten Network
Fox Sports 2
Longhorn Network
MLB Network
MLB Network Strike Zone
NBA TV
NBC Sports
NHL Network
Olympic Channel
Outside TV
Pac-12 Networks
ROOT SPORTS
SEC Network
And more!
There are even additional Regional Sports variations of many of the channels offered, Spanish-speaking variations, and other channels that may become available with your subscription depending on the games being broadcasted and your location.
MLB Extra Innings:
Baseball fans can enjoy up to 80 out-of-market games every week along with fresh insight and commentary when subscribing to MLB Extra Innings for $89.99 a season. Subscribers also get access to MLB.TV which offers live broadcasts of each game's radio call and the ability to stream across 400+ devices.
NBA League Pass:
Get more dunks, blocks, and rivalries with the NBA League Pass. The ultimate sports package for any basketball fan, you'll have the ability to view 40 out-of-market games each week for $49 a season. Both conferences, across every time zone, are showcased each week to maximize your viewing pleasure.
The NBA League Pass is bringing you more than additional games. Subscribers can customize their experience by choosing from more television feeds and angles to enhance their experience. You can even choose from a variety of languages, enjoy past archived games, listen to additional interviews and press conferences, and more.
Still in need of more hoops content? NBA League Pass Premium gives you even more hoops action with the ability to stream across two devices at once, the Video Vault which holds over 60 hours of basketball content, and an archive of every game from the 2012-2013 season to now.

*Currently not available to purchase due to COVID-19 Pandemic, DISH Network is monitoring current league conditions and we'll update accordingly.
NHL Center Ice:
The ultimate package for hockey fans, NHL Center Ice provides 40 out-of-market matchups each week for $49.99 a season. Enjoy the biggest stars regardless of your location each week with all of the goals and hits you can enjoy.
Outdoor Package:
Seeing this beautiful planet and reconnecting with nature is only a few clicks away with DISH's Outdoor Package. $4 a month grants subscribers access to Outdoor Channel, Outside Television, Sportsman Channel, and World Fishing Network for plenty of content surrounding nature, travel, and recreational activities.
Willow Cricket HD:
The premier channel for all things cricket-related in the United States, Willow Cricket HD has news, insight, and of course, live cricket games from a variety of teams and leagues including Cricket Australia, Cricket South Africa, England and Wales Cricket Board, Sri Lanka Cricket, and more for $14.99 monthly.
Racetrack Television Network:
At $49.99 a month, the Racetrack Television Network will cost you less than a bad day at the races and will promise you many good days with up to 700 potential races available each day. There are plenty of different races available including greyhound, harness, quarter horse, and thoroughbred races.
Using RTN Mobile you can watch races from around the world even when you are on the go. The Best of RTN is another great feature that allows viewers to enjoy the top 12 races going on anywhere, any time. Between the amazing races available and features to enhance your viewing experience, Racetrack Television Network gives you plenty of bang for your buck.
Follow Your Favorite Team With GoDISH
GoDISH has been helping sports fans follow their favorite teams, leagues, spectacles, and well, anything else sports related for years. We work to provide subscribers with the best in sports and entertainment packages without breaking your budget or missing out on any games all season long. You can also bundle your DISH Network subscription with an Internet service provider from one of our many partners. Learn more or contact one of our representatives today to get started with GoDISH.