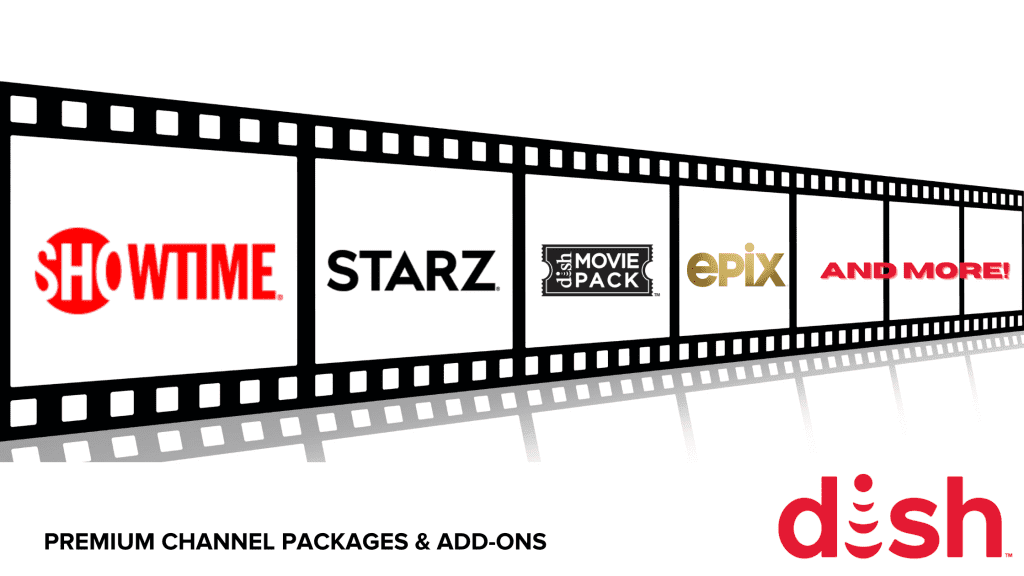 The available add-on premium movie channels on DISH Network allow you to take an already great viewing experience and channel selection and amplify it. Get all the hot, talked-about series and movies you want with our wide selection of premium movie channels. Watch all of the critically acclaimed series, newly released movies, and specials you can't get anywhere else, whenever you want, wherever you go.
Get SHOWTIME on DISH
One of the biggest names in premium television, Showtime continues to deliver high-quality content to its subscribers. Exclusive award-winning shows, some of the biggest movies in Hollywood, and boxing matches all collide for one of the most satisfying Premium Packages in DISH Network's arsenal.

STARZ Premium Channels Package
Another huge name in the world of premium television, STARZ has made an even bigger name for itself as of late with shows such as Power and Outlander at the helm. The service also brings with it an excellent catalog of movies from a range of genres that will keep everyone entertained.
DISH Movie Pack
The ultimate movie lovers' package, the DISH Movie Pack is a premium service that brings 14 movie channels to your television, tablet, mobile, or pretty much anywhere you can stream. Family-friendly flicks, classics you know and love, blockbuster hits, and everything else can be found here. Learn more about the DISH Movie Pack.
Stars and Stripes Pack Premium Package
Pure Americana the way it should be. Take a stroll down memory lane through historical series, watch classic westerns, and enjoy insightful travel series showcasing interesting locations throughout America. The perfect addition to fall in love with this country all over again every time you watch. This package features nine channels that include Destination America, The Smithsonian Channel, and other favorites.
STARZ Encore Premium Package
Nine exciting channels of movies that are sure to please everyone in the family. Whether you are looking for the latest Hollywood blockbuster, rediscovering an old classic, looking for a rom-com to relax to, or a family-friendly adventure, STARZ Encore is a great addition to your home's entertainment package.
EPIX Premium Package
A healthy catalog of content that brings entertainment to life in your home. EPIX is an outstanding premium channel offering that blends a range of movies with documentaries and comedy specials as well as some of the most talked-about original series on television.
| | | |
| --- | --- | --- |
| Premium Channel Package | Monthly Price | Content Description |
| Showtime | $10.00 | Acclaimed shows such as Homeland, an impressive catalog of movies, and boxing all in one place. |
| STARZ | $10.00 | Binge the day away with hard-hitting shows like Power and a variety of movies you'll love. |
| DISH Movie Pack | $10.00 | A variety of movie-focused channels such as EPIX and Hallmark Movies & Mysteries that bring the big screen to the small screen in all of their glory. |
| Stars and Stripes Pack | $10.00 | History, travel, and westerns await this All-American package with nine channels including STARZ Encore Westerns and Destination America. |
| STARZ Encore | $6.00 | Classic movies you know, modern blockbusters you'll love. Get it all across nine channels with something for the whole family. |
| EPIX | $7.00 | An overload of stunning movies, series, comedy specials, and documentaries that will have you entertained for hours on end. |