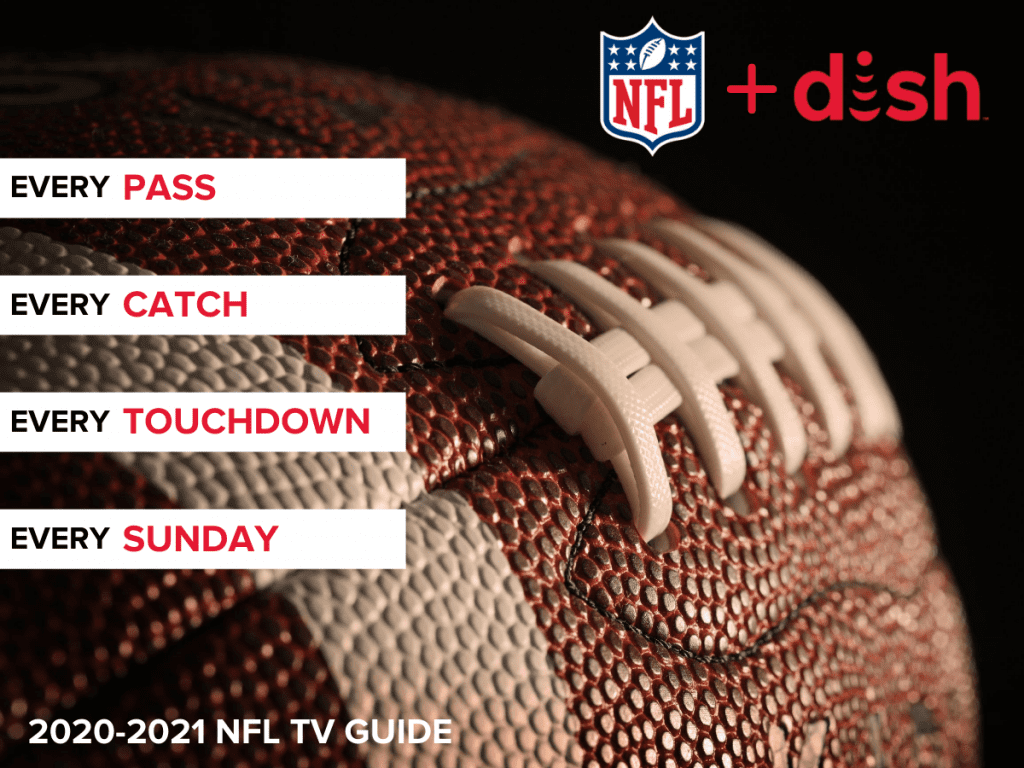 In a year that has been anything but normal, having the NFL just around the corner feels refreshing for fans across the United States and the world. There are a million storylines as always with everything from Patrick Mahomes receiving half a billion in the offseason to the intriguing offense led by Tom Brady in Tampa Bay and more, football fans have a lot to look forward to come kickoff. No matter which team you root for, catch all of the gridiron action, fantasy advice, and in-depth analysis when you subscribe with GoDISH.
Where Can I Watch The NFL?
DISH Network has you covered when it comes to all the NFL action you can handle. National broadcasts from highly esteemed networks will be bringing all of the gridiron action including CBS, ESPN, FOX, NBC, and the NFL Network. Check out these upcoming matchups for Week 1 of the season:
Matchup
Date
Time (CST)
Nationally Televised Network
DISH Network Channel
L.A. Rams v. Green Bay
January 16, 2021
3:35 PM
FOX
*Local channels may vary by location
Baltimore v. Buffalo
January 16, 2021
7:15 PM
NBC
*Local channel that varies by location
Cleveland
v. Kansas City
January 17, 2021
2:05 PM
CBS
**4, but may vary by location
Tampa Bay v. New Orleans
January 17, 2021
5:40 PM
FOX
*Local channels may vary by location
**Please note that some channels or games may not be available due to location.
Please keep in mind that the NFL and its affiliates determine which markets will receive which broadcast and games can change at any time. Following social media accounts of your favorite teams can help you determine where the games you are looking for will be broadcasted.
Will I be Able to Watch the NFL on DISH Network?
DISH Network is not only bringing you a variety of channels broadcasting the best in NFL action but has a multitude of networks offering a variety of NFL related coverage. You can catch all the live-action, highlights, advice, and analysis across many different networks such as CBS, ESPN, FOX, NBC, the NFL Network, and more. It doesn't matter if you're a casual fan, a fantasy football junkie, or a lifelong die-hard, DISH Network has all of the NFL coverage you could ever ask for.
Which Teams Will be Playing When the NFL Starts?
Currently, all of your favorite teams will be able to prepare and play when the 2020 season starts. The coronavirus pandemic has touched every league across every sport on the planet with the NFL being no exception; however, football's greatest league has had the benefit of enduring most of the storm during its offseason.
Where Will the Remainder of the 2019-2020 NFL Season Be Held?
While the topic of whether or not fans will be allowed into the stadiums of many NFL teams continues to yield discussion and varying results, it appears that the NFL will take place as it usually does with teams preparing to play in their stadiums. One of the most notable changes that will take place this season is that as a precautionary measure, the NFL has decided to put its international ambitions on pause and hold every game exclusively within the United States.
Will There be Playoffs for the 2019-2020 NFL Season?
The NFL is fully prepared to host the postseason for the 2020-21 season with the Wild Card round of the Playoffs beginning January 9th, 2021. It is important to note that the Big Game may be postponed from its current date of February 7, 2021, and the Pro Bowl may be canceled altogether as part of the league's efforts to stifle the spread of COVID-19. The best part of it all is that when you subscribe to GoDISH you can catch the NFL in all of its glory as rivals fight for a shot at the postseason and ultimately, to be crowned champion. GoDISH subscribers can even bundle their satellite television services with a variety of top-rated Internet providers including names such as AT&T, HughesNet, and Viasat Don't miss any of the action on the field and off, contact GoDISH today.
NFL 2020 League Schedule
Everything you need to know about following along this season is available down below. From Week 1 to the Trade Deadline and of course the Big Game, we've got you covered. Take a look at all of the important dates coming to NFL fans this season:

*Note, it is important to remember that due to the ongoing coronavirus pandemic, times, dates, and events are subject to change.
As of now, the NFL Preseason begins August 20th.
Teams must have their 53-man roster ready by September 5th.
Week 1 kicks things off between the Texans and Chiefs on September 10th.
Give thanks on November 26th as the NFL takes center stage come Thanksgiving Day.
The playoffs begin on January 9th, 2021.
The Pro Bowl is scheduled to take place on January 31, 2021, but may be canceled as a part of the protocol to combat the coronavirus pandemic.
The Big Game comes to our homes from Tampa Bay on February 7, 2021, but may be delayed should protocol dictate otherwise.
Get to know your enemy before the season begins. Take a look at your favorite team and who you can expect to see this year as your favorite players face off against rivals both old and new:
| | |
| --- | --- |
| Team | Matchups |
| Arizona Cardinals | Buffalo Bills, Carolina Panthers, Dallas Cowboys, Detroit Lions, Los Angeles Rams, Miami Dolphins, New England Patriots, New York Giants, New York Jets, Philadelphia Eagles, San Francisco 49ers, Seattle Seahawks, Washington Football Team |
| Atlanta Falcons | Carolina Panthers, Chicago Bears, Dallas Cowboys, Denver Broncos, Detroit Lions, Green Bay Packers, Kansas City Chiefs, Las Vegas Raiders, Los Angeles Chargers, Minnesota Vikings, New Orleans Saints, Seattle Seahawks, Tampa Bay Buccaneers |
| Baltimore Ravens | Cincinnati Bengals, Cleveland Browns, Dallas Cowboys, Houston Texans, Indianapolis Colts, Jacksonville Jaguars, Kansas City Chiefs, New England Patriots, New York Giants, Philadelphia Eagles, Pittsburgh Steelers, Tennessee Titans, Washington Football Team |
| Buffalo Bills | Arizona Cardinals, Denver Broncos, Kansas City Chiefs, Las Vegas Raiders, Los Angeles Chargers, Los Angeles Rams, Miami Dolphins, New England Patriots, New York Jets, Pittsburgh Steelers, San Francisco 49ers, Seattle Seahawks, Tennessee Titans |
| Carolina Panthers | Arizona Cardinals, Atlanta Falcons, Chicago Bears, Denver Broncos, Detroit Lions, Green Bay Packers, Kansas City Chiefs, Las Vegas Raiders Los Angeles Chargers, Minnesota Vikings, New Orleans Saints, Tampa Bay Buccaneers, Washington Football Team |
| Chicago Bears | Atlanta Falcons, Carolina Panthers, Detroit Lions, Green Bay Packers, Houston Texans, Indianapolis Colts, Jacksonville Jaguars, Los Angeles Rams, Minnesota Vikings, New Orleans Saints, New York Giants, Tampa Bay Buccaneers, Tennessee Titans |
| Cincinnati Bengals | Baltimore Ravens, Cleveland Browns, Dallas Cowboys, Houston Texans, Indianapolis Colts, Jacksonville Jaguars, Los Angeles Chargers, Miami Dolphins, New York Giants, Philadelphia Eagles, Pittsburgh Steelers, Tennessee Titans, Washington Football Team |
| Cleveland Browns | Baltimore Ravens, Cincinnati Bengals, Dallas Cowboys, Houston Texans, Indianapolis Colts, Jacksonville Jaguars, Las Vegas Raiders, New York Giants, New York Jets, Philadelphia Eagles, Pittsburgh Steelers, Tennessee Titans, Washington Football Team |
| Dallas Cowboys | Arizona Cardinals, Atlanta Falcons, Baltimore Ravens, Cincinnati Bengals, Cleveland Browns, Los Angeles Rams, Minnesota Vikings, New York Giants, Philadelphia Eagles, Pittsburgh Steelers, San Francisco 49ers, Seattle Seahawks, Washington Football Team |
| Denver Broncos | Atlanta Falcons, Buffalo Bills, Carolina Panthers, Kansas City Chiefs, Las Vegas Raiders, Los Angeles Chargers, Miami Dolphins, New England Patriots, New Orleans Saints, New York Jets, Pittsburgh Steelers, Tampa Bay Buccaneers, Tennessee Titans |
| Detroit Lions | Arizona Cardinals, Atlanta Falcons, Carolina Panthers, Chicago Bears, Green Bay Packers, Houston Texans, Indianapolis Colts, Jacksonville Jaguars, Minnesota Vikings, New Orleans Saints, Tampa Bay Buccaneers, Tennessee Titans, Washington Football Team |
| Green Bay Packers | Atlanta Falcons, Carolina Panthers, Chicago Bears, Detroit Lions, Houston Texans, Indianapolis Colts, Jacksonville Jaguars, Minnesota Vikings, New Orleans Saints, Philadelphia Eagles, San Francisco 49ers, Tampa Bay Buccaneers, Tennessee Titans |
| Houston Texans | Baltimore Ravens, Chicago Bears, Cincinnati Bengals, Cleveland Browns, Detroit Lions, Green Bay Packers, Indianapolis Colts, Jacksonville Jaguars, Kansas City Chiefs, Minnesota Vikings, New England Patriots, Pittsburgh Steelers, Tennessee Titans |
| Indianapolis Colts | Baltimore Ravens, Chicago Bears, Cincinnati Bengals, Cleveland Browns, Detroit Lions, Green Bay Packers, Houston Texans, Jacksonville Jaguars, Las Vegas Raiders, Minnesota Vikings, New York Jets, Pittsburgh Steelers, Tennessee Titans |
| Jacksonville Jaguars | Baltimore Ravens, Chicago Bears, Cincinnati Bengals, Cleveland Browns, Detroit Lions, Green Bay Packers, Houston Texans, Indianapolis Colts, Los Angeles Chargers, Miami Dolphins, Minnesota Vikings, Pittsburgh Steelers, Tennessee Titans |
| Kansas City Chiefs | Atlanta Falcons, Baltimore Ravens, Buffalo Bills, Carolina Panthers, Denver Broncos, Houston Texans, Las Vegas Raiders, Los Angeles Chargers, New England Patriots, New York Jets, Miami Dolphins, New Orleans Saints, Tampa Bay Buccaneers |
| Las Vegas Raiders | Atlanta Falcons, Buffalo Bills, Carolina Panthers, Cleveland Browns, Denver Broncos, Indianapolis Colts, Kansas City Chiefs, Los Angeles Chargers, Miami Dolphins, New England Patriots, New Orleans Saints, New York Jets, Tampa Bay Buccaneers |
| Los Angeles Chargers | Atlanta Falcons, Buffalo Bills, Carolina Panthers, Cincinnati Bengals, Denver Broncos, Jacksonville Jaguars, Kansas City Chiefs, Las Vegas Raiders, Miami Dolphins, New England Patriots, New Orleans Saints, New York Jets, Tampa Bay Buccaneers. |
| Los Angeles Rams | Arizona Cardinals, Buffalo Bills, Chicago Bears, Dallas Cowboys, Miami Dolphins, New England Patriots, New York Giants, New York Jets, Philadelphia Eagles, San Francisco 49ers, Seattle Seahawks, Tampa Bay Buccaneers, Washington Football Team |
| Miami Dolphins | Arizona Cardinals, Buffalo Bills, Cincinnati Bengals, Denver Broncos, Jacksonville Jaguars, Kansas City Chiefs, Las Vegas Raiders, Los Angeles Chargers, Los Angeles Rams, New England Patriots, New York Jets, San Francisco 49ers, Seattle Seahawks |
| Minnesota Vikings | Atlanta Falcons, Carolina Panthers, Chicago Bears, Dallas Cowboys, Detroit Lions, Green Bay Packers, Houston Texans, Indianapolis Colts, Jacksonville Jaguars, New Orleans Saints, Seattle Seahawks, Tampa Bay Buccaneers, Tennessee Titans |
| New England Patriots | Arizona Cardinals, Baltimore Ravens, Buffalo Bills, Denver Broncos, Houston Texans, Kansas City Chiefs, Las Vegas Raiders, Los Angeles Chargers, Los Angeles Rams, Miami Dolphins, New York Jets, San Francisco 49ers, Seattle Seahawks |
| New Orleans Saints | Atlanta Falcons, Carolina Panthers, Chicago Bears, Denver Broncos, Detroit Lions, Green Bay Packers, Kansas City Chiefs, Las Vegas Raiders, Los Angeles Chargers, Minnesota Vikings, Philadelphia Eagles, San Francisco 49ers, Tampa Bay Buccaneers |
| New York Giants | Arizona Cardinals, Baltimore Ravens, Chicago Bears, Cincinnati Bengals, Cleveland Browns, Dallas Cowboys, Los Angeles Rams, Philadelphia Eagles, Pittsburgh Steelers, San Francisco 49ers, Seattle Seahawks, Tampa Bay Buccaneers, Washington Football Team |
| New York Jets | Arizona Cardinals, Buffalo Bills, Cleveland Browns, Denver Broncos, Indianapolis Colts, Kansas City Chiefs, Las Vegas Raiders, Los Angeles Chargers, Los Angeles Rams, Miami Dolphins, New England Patriots, San Francisco 49ers, Seattle Seahawks |
| Philadelphia Eagles | Arizona Cardinals, Baltimore Ravens, Cincinnati Bengals, Cleveland Browns, Dallas Cowboys, Green Bay Packers, Los Angeles Rams, New Orleans Saints, New York Giants, Pittsburgh Steelers, San Francisco 49ers, Seattle Seahawks, Washington Football Team |
| Pittsburgh Steelers | Baltimore Ravens, Buffalo Bills, Cincinnati Bengals, Cleveland Browns, Dallas Cowboys, Denver Broncos, Houston Texans, Indianapolis Colts, Jacksonville Jaguars, New York Giants, Philadelphia Eagles, Tennessee Titans, Washington Football Team |
| San Francisco 49ers | Arizona Cardinals, Buffalo Bills, Dallas Cowboys, Green Bay Packers, Los Angeles Rams, Miami Dolphins, New England Patriots, New Orleans Saints, New York Giants, New York Jets, Philadelphia Eagles, Seattle Seahawks, Washington Football Team |
| Seattle Seahawks | Arizona Cardinals, Atlanta Falcons, Buffalo Bills, Dallas Cowboys, Los Angeles Rams, Miami Dolphins, Minnesota Vikings, New England Patriots, New York Giants, New York Jets, Philadelphia Eagles, San Francisco 49ers, Washington Football Team |
| Tampa Bay Buccaneers | Atlanta Falcons, Carolina Panthers, Chicago Bears, Denver Broncos, Detroit Lions, Green Bay Packers, Kansas City Chiefs, Las Vegas Raiders, Los Angeles Chargers, Los Angeles Rams, Minnesota Vikings, New Orleans Saints, New York Giants |
| Tennessee Titans | Baltimore Ravens, Buffalo Bills, Chicago Bears, Cincinnati Bengals, Cleveland Browns, Denver Broncos, Detroit Lions, Green Bay Packers, Houston Texans, Indianapolis Colts, Jacksonville Jaguars, Minnesota Vikings, Pittsburgh Steelers |
| Washington Football Team | Arizona Cardinals, Baltimore Ravens, Carolina Panthers, Cincinnati Bengals, Cleveland Browns, Dallas Cowboys, Detroit Lions, Los Angeles Rams, New York Giants, Philadelphia Eagles, Pittsburgh Steelers, San Francisco 49ers, Seattle Seahawks |