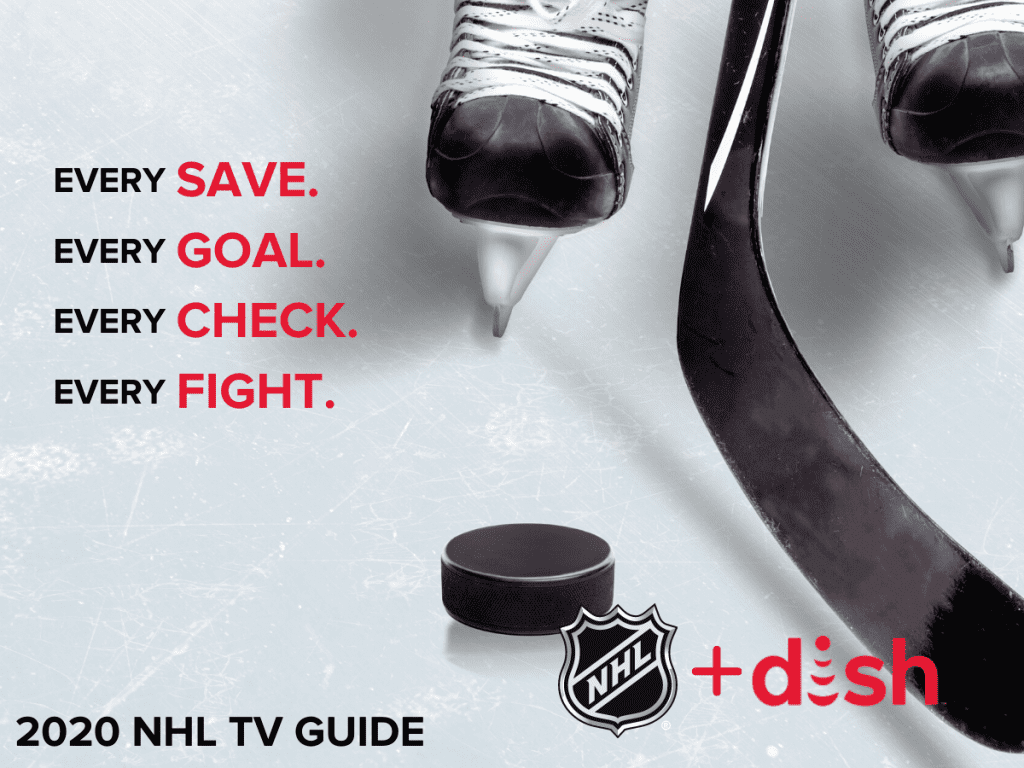 As sports leagues around the world work their way back into our lives, the NHL looks to be following suit with a triumphant return scheduled for August 1st. The coronavirus pandemic threatened to spoil what had become an exciting regular season that has set the stage for an intriguing postseason, but with sides coming to terms and protocols being created, it looks like hockey fans can rejoice as the world's best hockey league is ready to restart soon and GoDISH can put your home in the middle of all of the action. We've gone months without it, so don't waste another minute. Learn more about what to expect and how to subscribe through GoDISH to catch every save, check, fight, and goal coming from Canada for the upcoming NHL tournament.
Where Can I Watch The NHL?
Hockey fans can catch the NHL across a host of networks including NBC, NBCSN, and NHL Network. While we can't be in the stands for the rest of this season, DISH Network subscribers can still get in on all of the action through these televised offerings. On top of these networks, DISH subscribers can add NHL Center Ice for even more content. Get highlights, analysis, and all the games you could ask for when you subscribe through GoDISH.
| | | | | |
| --- | --- | --- | --- | --- |
| Matchup | Date | Time (CST) | Nationally Televised Network | DISH Network Channel |
| Dallas v. Tampa Bay | September 21, 2020 | 7:00 PM | NBCSN | 159 |
| Tampa Bay v. Dallas | September 23, 2020 | 7:00 PM | NBCSN | 159 |
| Tampa Bay v. Dallas | September 25, 2020 | 7:00 PM | NBC | *Local channels may vary |
| Dallas v. Tampa Bay | September 26, 2020 | 7:00 PM | NBC | *Local channels may vary |

**Please note that some channels or games may not be available due to location.
Will I Be Able to Watch the NHL on DISH Network?
Don't worry, you'll be able to stay caught up on all of the action when the NHL tournament gets underway on DISH Network. Channels including NBC, NBCSN, and NHL Network will still be bringing hockey fans across North America all the games, highlights, and talking points of their favorite teams and every matchup.
Which Teams Will Be Playing When the NHL Restarts?
Almost everyone will be involved in the NHL tournament, but there are some notable exceptions. Check out this list of the 24 teams that still have Stanley Cup hopes alive:
Arizona Coyotes
Boston Bruins
Calgary Flames
Carolina Hurricanes
Chicago Blackhawks
Colorado Avalanche
Columbus Blue Jackets
Dallas Stars
Edmonton Oilers
Florida Panthers
Las Vegas Golden Knights
Minnesota Wild
Montreal Canadiens
Nashville Predators
New York Islanders
New York Rangers
Philadelphia Flyers
Pittsburgh Penguins
St. Louis Blues
Tampa Bay Lightning
Toronto Maple Leafs
Vancouver Canucks
Washington Capitals
Winnipeg Jets

For the remainder of the teams including the: Anaheim Ducks, Buffalo Sabres, Detroit Red Wings, Los Angeles Kings, New Jersey Devils, Ottawa Senators, and San Jose Sharks, their seasons are over.
Where Will the Remainder of the 2019-2020 NHL Season Be Held?
All of the remaining games for the NHL will take place behind closed doors with the Eastern Conference games being held in Toronto at Scotiabank Place and the Western Conference games taking place at Rogers Place in Edmonton.
Will There be Playoffs for the 2019-2020 NHL season?
There will be playoffs for the restart of the NHL season. Each conference will host a Round Robin and a best-of-5 Qualifying Round to help determine seeding, and the Stanley Cup Playoffs will begin no later than October 4th. Watch your favorite team or discover a new one this year as GoDISH is here to put you in the middle of the action even during a time in which we must stay distant. Don't miss out on the exciting conclusion to the NHL season and see everything the Stanley Cup Playoffs has to offer when you subscribe to GoDISH today. You can even bundle with top Internet service providers such as AT&T, HughesNet, and Viasat.
NHL 2020 League Schedule
The ending to the 2019-20 NHL season is at long last getting ready to begin. There are still plenty of important dates for hockey fans to pay attention to. Take a look at the most important dates coming your way for the rest of the NHL season:
The NHL officially restarts on August 1st.
The first round of the Stanley Cup Playoffs will take place tentatively on August 25th.
The Stanley Cup Finals begin September 22nd with the hockey world crowning a new NHL champion no later than October 4th.
Though it is subject to change, the 2020-21 NHL season is scheduled to begin on December 1st.
Get to know who your team will be matched up against as a race to qualify for the Stanley Cup Playoffs is on the Summer and remember, you can catch plenty of the best hockey content available here on DISH Network:
| | |
| --- | --- |
| Team | Matchups |
| Arizona Coyotes | Nashville Predators |
| Boston Bruins | Philadelphia Flyers, Tampa Bay Lightning, Washington Capitals |
| Calgary Flames | Winnipeg Jets |
| Carolina Hurricanes | New York Rangers |
| Chicago Blackhawks | Edmonton Oilers |
| Colorado Avalanche | Dallas Stars, Las Vegas Golden Knights, St. Louis Blues |
| Columbus Blue Jackets | Toronto Maple Leafs |
| Dallas Stars | Colorado Avalanche, Las Vegas Golden Knights, St. Louis Blues |
| Edmonton Oilers | Chicago Blackhawks |
| Florida Panthers | New York Islanders |
| Las Vegas Golden Knights | Colorado Avalanche, Dallas Stars, St. Louis Blues |
| Minnesota Wild | Vancouver Canucks |
| Montreal Canadiens | Pittsburgh Penguins |
| Nashville Predators | Arizona Coyotes |
| New York Islanders | Florida Panthers |
| New York Rangers | Carolina Hurricanes |
| Philadelphia Flyers | Boston Bruins, Tampa Bay Lightning, Washington Capitals |
| Pittsburgh Penguins | Montreal Canadiens |
| St. Louis Blues | Colorado Avalanche, Dallas Stars, Las Vegas Golden Knights |
| Tampa Bay Lightning | Boston Bruins, Philadelphia Flyers, Washington Capitals |
| Toronto Maple Leafs | Columbus Blue Jackets |
| Vancouver Canucks | Minnesota Wild |
| Washington Capitals | Boston, Bruins, Philadelphia Flyers, Tampa Bay Lightning |
| Winnipeg Jets | Calgary Flames |