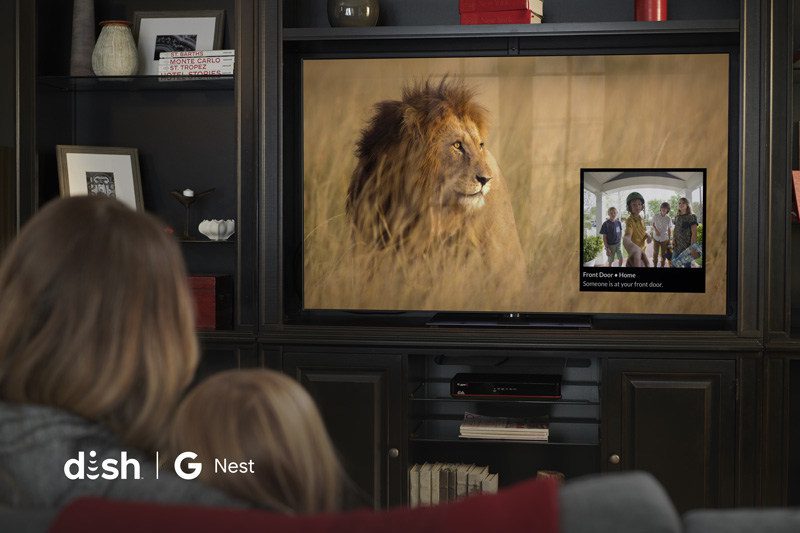 DISH Network's Hopper family continues to deliver a superior TV experience that's second to none by being the first provider to provide live video streams directly on your TV. DISH always strives to be ahead of the game with Hopper integrations including the Google Nest doorbell system. Previously customers would only get text notifications on their TV that someone was at their door. But now, the new rollout will give users the ability to view live video feeds from their Nest Hello Video doorbell.
Google Nest Hello Doorbell on DISH's Hopper: How Does It Work?
The Google Nest Hello is a video doorbell that provides 24/7 live-streaming of your front door and video recording when motion is detected. DISH makes it easy to integrate your Google Nest App to your Hopper. Follow our step by step guide below for easy setup!
Depending on your device, press the Menu button once or the Home button twice.
Choose Apps
Select the Google Nest app
Click "Get Code"
Be sure to write down or take a picture of the code, and then visit nest.dishanywhere.com on your computer or phone
Once you're on the website, enter the code in the Activation Code field and then click "Activate"
You'll then need to sign in to your Google account
Give DISH permission to access your Nest device and then click "Done"
You'll then re-select your Google account that you want to use
Give the appropriate permissions and then click "Allow"
Once your account is linked, you'll need to click Done on your Hopper
When your doorbell is pressed, you'll now see a live feed from your Nest Doorbell in the bottom right corner of your TV
You can get a full step by step guide with pictures here.
How To Use Google Nest Hello Doorbell On The Hopper
You can easily access your Google Nest app on your DISH Hopper or Joey receiver by saying "Launch Nest" using the DISH Voice Remote! Or you can simply sit back, relax, and enjoy your favorite DISH content and when someone presses your doorbell, you'll automatically receive a notification. It's that easy!
DISH Network with Google Nest Hello Doorbell: The Perfect Pairing
No one does home entertainment quite like DISH Network and the Google Nest is one of the best-selling smart home products- and paired together this duo makes a connected home even smarter. DISH Network continuously offers cutting-edge innovations with its Hopper family that always push your TV experience to the next level. DISH packages start at $64.99 with 190+ channels with some packages going as far as 290+ channels! You can even customize your TV experience even further with premium add-on channels such as the Multi-Sport Package or one of the Lifestyle Packages. DISH Network also offers bundling options so you can bundle your TV and Internet together for ultimate savings! Sign up for DISH today and get all of your favorite content integrated with your favorite smart home apps.