Build Your DISH TV and Internet Bundle
Multiple connection types available including cable, DSL, fiber, fixed wireless, and satellite.
Bundle and save with access to top Internet service providers (ISPs).
Prices start as low as $19.99 a month depending on your provider and location.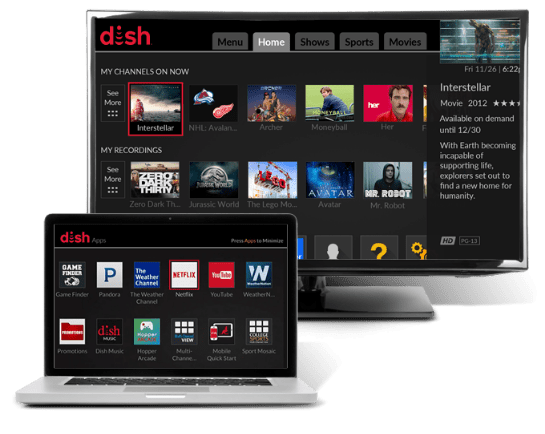 Our Internet Provider Partners
When you sign up with GoDISH you can bundle with a variety of ISPs using our relationships with top-rated brands such as Wahoo Internet, HughesNet, Viasat, Xfinity, and many more. Whether your home is equipped for cable, DSL, fiber, fixed wireless, or satellite connections, we can bundle your DISH Network television package with the perfect Internet deal to fit your needs and budget. Take a look below at your ISP and learn more about how your entertainment can meet communication effortlessly.
Why Bundle Your Internet with DISH Network
No hassle and spend less time shopping for the perfect plan and more time enjoying your services.
Find unique money-saving deals through our partnerships with top Internet providers.
Lock in your price on select deals to keep your bill low and consistent.
Eligible customers can earn up to a $200 VISA Gift Card when you bundle your TV & home internet services!
GET DISH TV & INTERNET
SPEEDS STARTING AT 25 MBPS
You give us a little info about yourself
We search for the best TV and Internet deals in your area
You save more money!
By submitting this form, I acknowledge that I permit GoDISH.com to use my information provided to search for their best current offers for DISH Satellite TV plus internet service. I also grant GoDISH.com express consent to contact me at the number and/or email address I have provided above with automated technology in relation to this inquiry via phone, e-mail, or text message. I understand that I am not required to consent to make a purchase.
FAQs About Internet with DISH Network
Who Does DISH Network Partner With for the Internet?

When you subscribe through GoDISH you have options from many of our ISP partners. Take a look below at the various companies helping DISH customers stay connected through fast, reliable Internet services:
Does DISH Network Offer Internet Without DISH TV?

DISH Network does not offer Internet exclusively but can be bundled with many top-rated ISPs offering a variety of connection types through GoDISH. When you sign up for one of DISH's amazing channel packages you can bundle for access to quality Internet options including AT&T, HughesNet, Viasat, Wahoo Internet, and more.
Can I Get DISH Network Internet in My Area?

Internet connectivity types depend on your home's location but through GoDISH you can receive quality Internet solutions no matter where you live. We partner with many nationwide options like AT&T and Xfinity in addition to providers in more rural, underserved markets including Wahoo Internet, HughesNet, and Viasat.
What Type of Internet Does DISH Network Offer?

DISH Network partners with many different Internet providers that boast a range of various connection types depending on your home's needs and location. This includes wired connections such as cable, DSL, and fiber. You can even connect through wireless connection types via fixed wireless and satellite. GoDISH works to find the right connectivity for your home with bundles built around saving your money while gaining access to the fastest available download speeds to your home.