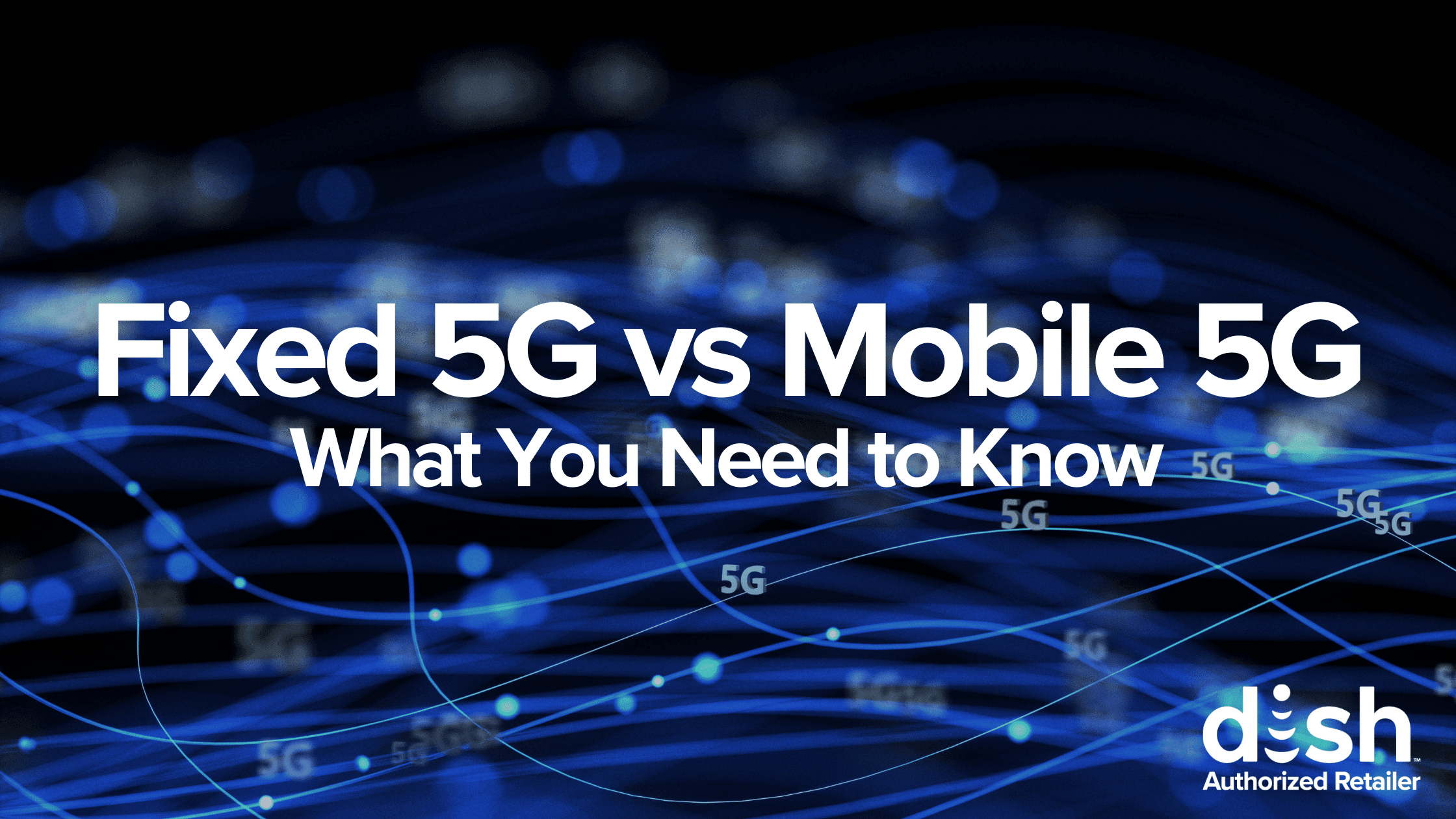 5G is the next generation in wireless technology and is going to completely change the way we connect to the internet and the world around us. 5G promises to deliver increased speeds, lower latency, and decrease network congestion. 5G isn't going to just make your mobile phone faster, but it will also enable an improved internet experience from the comfort of your home through a fixed wireless connection. Rural and suburban areas have suffered in the past to get blazing fast internet speeds and 5G fixed wireless is going to help change that. And with the improved wireless networks from T-Mobile, Verizon, AT&T, and DISH Wireless, these areas will also see improved mobile 5G experiences. Let's look at Mobile 5G vs Fixed 5G more in-depth by exploring the two connection types and how they're going to help better connect their users to the world around them. 
What is the Difference Between Mobile 5G and Fixed 5G? 
The obvious difference between mobile 5G and 5G fixed wireless is that mobile 5G will connect you to a 5G network through your phone or other smart devices, whereas a 5G fixed wireless connection will only give you access in one place, like your home or office.
| | | |
| --- | --- | --- |
| Comparison | Mobile 5G | Fixed 5G |
| Where it works | Works when you leave home. | Every device you have gets 5G, including your computer. |
| How it works | Could be a source of 5G internet to other devices on the go. | More likely to offer unlimited data usage. |
| Best Feature | Fast speeds like we have never seen before | Offers a reliable connection. |
Both types of connections offer different benefits for the end-user. One is ideal for home or office space and the other is internet access on the go or can be used as a hotspot. However, both connections have their benefits and downfalls, so let's review what they are.
Mobile 5G: Pros and Cons
Mobile 5G gives users exceptionally fast speeds on your smartphone, computer, tablet, smartwatch, etc while you're away from the home and out of range of your home WiFi connection. It is also an easy setup, all you need to do is purchase a 5G-enabled device and connect it to a provider that offers a 5G plan.
Mobile 5G is great but the new technology also comes with some pitfalls. When it comes to coverage reliability 5G is pretty similar to the older generation 4G. In one spot you may have great service, but your service could be weak or you might experience a total loss of coverage when you move somewhere else. Because 5G is still new and carriers are still trying to deploy widespread coverage across the U.S., your 5G connection may be hit or miss depending on if the carrier has 5G network availability where you're at.
Another downside to 5G is that companies are sometimes charging more for a 5G connection and data overages. 5G uses more data than 4G so unless you're on an unlimited plan, you'll likely pay more for your 5G connection. So if you're one to stream, game, or do any data-heavy activities on your phone, you may want to consider the cost of a 5G connection first.
With the new year, we will see a battle between the various wireless companies. All of the major carriers have deployed their 5G networks with varying levels of coverage, but T-Mobile dominates as the carrier with the most availability nationwide, with AT&T following behind and Verizon in last place. DISH Wireless has yet to release its 5G network but must deploy a 5G network that covers 97% of the U.S. by 2025 or face a hefty $2.2 billion fine.
5G Fixed Wireless: Pros and Cons
When it comes to reliability, fixed wireless blows mobile 5G out of the park. When you are located in the same spot, you have a greater chance to get consistent coverage because there are fewer moving parts that could potentially intervene with the signal. Fixed wireless is a fixed connection at a home or office, therefore it provides the reliability of a stable connection unlike what you get with mobile 5G.
Another way fixed wireless outshines mobile 5G is when you are trying to connect multiple devices at once. When you connect to 5G internet at your home, any device can connect to the internet with a WiFi router to access the fast connection offered by the 5G modem from the nearest 5G cell tower. Mobile 5G can't do that easily.
For example, your household has multiple devices connected through a 5G hotspot, when that hotspot leaves the area, so does your connection to the internet. In addition, fixed wireless connections will have more data-friendly plans that will allow data-heavy homes more usage without the extra cost and fees that you would see through a mobile provider.
A 5G fixed wireless connection also boasts better indoor coverage because depending on the 5G connection you have, the signal can be easily lost or disrupted due to weather, walls, buildings, or other factors. A fixed wireless setup is connected through your modem and the tower, therefore you can depend on reliable coverage through your house and not have to deal with dead spots that occur with a mobile connection.
The downside with fixed wireless is there can be line of sight limitations, meaning if there's not a connection line between your location and the tower it's connecting to, you could experience a disruption in your service. Another flaw in fixed wireless is like mobile 5G, it could be a bit pricey depending on what else is available in your area. But, this could also be a positive because it brings the internet where it otherwise wouldn't be, allowing you to have choices and options.
As far as carriers go, T-Mobile, Verizon, and AT&T are heavily focused on their wireless coverage rather than their home internet options in 2021. This opens the door for DISH Wireless as they work to set up their entire 5G network with fixed wireless connections are the forefront of what they're doing. DISH Wireless will use versatile spectrum, which is the idea of combining three tiers, low-band, mid-band, and high-band to create a 5G network that powers fixed wireless for seamless connectivity. DISH Wireless's 5G fixed wireless is here and ready to provide you with something that's never been done before, but there are still some ways to go.
How to Get Mobile 5G or Fixed Wireless 5G
Each of the major carriers has nationwide mobile 5G coverage and fixed wireless connections in some select cities. As 5G technology rolls out, we'll see more of both from all the carriers, including DISH Wireless. To get mobile 5G or fixed wireless 5G access, just go to your favorite carrier's website and see what's available to you in your area!
How DISH Wireless is Changing the Game
DISH Wireless is prepared to offer so much more than just cell phone coverage. Creating a 5G network from scratch is not an easy task to complete, but DISH Wireless is wasting no time by joining the O-RAN Alliance, making deals with a range of top vendors (Nokia, VMware, and Hansen Technologies to name a few), and establishing a cloud-based 5G network across the entire nation. There's one thing for certain, DISH Wireless is innovating the way we connect to the world around us and we can expect to see great things come from the Denver-based company.