Las Vegas, Nevada has many names and a long, notable history, but it may soon be adding to this list as the birthplace of pure 5G in America. DISH Wireless with its announcement to work with Amazon Web Services (AWS) is beginning its journey into the wireless industry in the Gambling Capital of the World. It can be easy to think of DISH Wireless as just another wireless carrier looking to bring faster speeds and better connection to our smartphones, and these accomplishments are all part of the plan; however, DISH Wireless is so much more.
DISH Wireless is going to transform not only the way you talk, text, surf, etc., but it's going to transform the very manner in which the Las Vegas 5G network operates. 5G is ready to take many things we do to the next level, but not all 5G networks are the same and DISH intends to prove just that. Whether you are a long-standing resident or a visiting tourist, in the not-so-distant future, the way you experience Las Vegas, Nevada will never be the same.
DISH 5G Will Offer More Features Than Retrofitted 5G
There are four major wireless providers in the United States today: AT&T, DISH Wireless, T-Mobile, and Verizon. Each of these providers either has or will have a nationwide 5G network. But there are differences that will separate the way these 5G networks operate:
Unlike the other three, DISH Wireless is building its 5G network from the ground up. This means no previous generations propping up its network and subscribers and vendors will enjoy true 5G features from day one. Other providers, especially in the earlier years of 5G, may rely on previous wireless generations' speeds and features such as 4G LTE to keep subscribers connected.
Because some features cannot be performed on previous generations, a pure 5G network will allow for innovations that are not possible on other 5G networks. This includes features that increase speeds, minimize network disruptions, and enhance security for subscribers.
5G is provided in three spectrum band categories. Low-band allows for farther transmission but slower speeds, high-band (mmWave) spectrum provides the fastest 5G speeds available but is incapable of traveling very far, and mid-band spectrum finds a happy medium between the other two. Different carriers build their 5G networks in different manners, but all carriers will need to rely on multiple layers working together to best serve customers. DISH Wireless is proud to utilize native carrier aggregation, a technique that uses all three bands in harmony for a better user experience.
DISH Wireless is taking full advantage of not having the responsibility of upkeep existing networks as it builds a 5G network from scratch to deliver more features. Users will be able to enjoy a better experience and more features and flexibility because of this approach. One of the key features that will come to life because of DISH's approach to 5G will help transform industries throughout Las Vegas. This feature is known as network slicing.
Understanding Network Slicing
The way network slicing works is a pretty simple concept. It allows DISH Wireless to provide individual entities their own "slice" of 5G for a privatized network built for their own needs. As you can imagine, a school, a casino, a factory, and a government agency will all likely have different needs, uses, and concerns surrounding their 5G networks. Because each entity is unique, network slicing allows DISH Wireless to provide entities around Las Vegas with personalized solutions to their 5G networks. Take a look at this diagram from a whitepaper offered by DISH Wireless explaining how network slicing can benefit individual efforts while supporting multiple subscribers on their 5G network: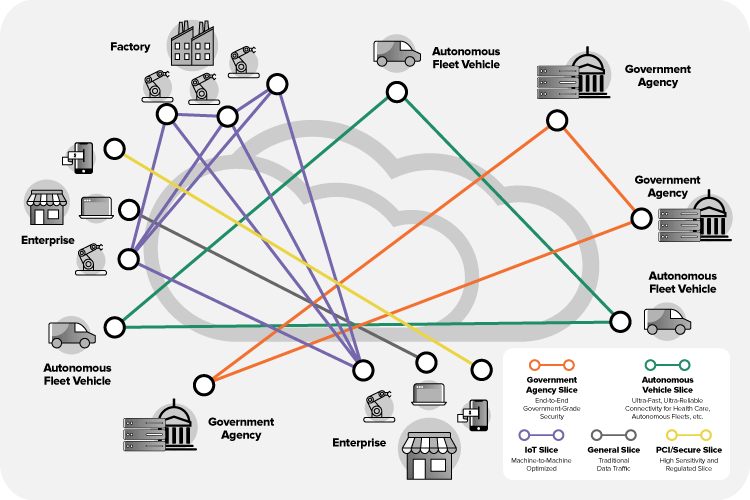 DISH Wireless Will Enhance Multiple Industries in Las Vegas
With DISH Wireless providing a path for organizations to receive customized 5G networks for their needs, it's easy to see how a range of industries will benefit from this opportunity. The various 5G network features that different entities will have access to can be used in many ways according to that industry's specific need. Whether it is autonomy, artificial intelligence (AI) and machine learning (ML), or extended reality (XR) features, many applications in Las Vegas will change how businesses operate and consumers receive the experience in the world around them.
Entertainment/Hospitality/Tourism
There's a reason Las Vegas, a city that goes by many names, is known as the Entertainment Capital of the World. Entangled together are the entertainment, hospitality, and tourism industries. From world-class live shows to over-the-top restaurants to casinos of grandeur like nowhere else to extravagant resorts and to…well, anything else your heart desires. If you can dream it, you can do it in Las Vegas!
Within this vast industry, tourism brought in over 42 million people in 2019 alone, many different businesses will benefit from 5G. This includes enhanced security features at casinos and resorts, capable of using AI and ML to assess potential threats before they happen. Autonomous vehicles working together with smart city features to help create safer travel in a city that has heavy logistics to accommodate both street and foot traffic. 5G is even enabling new opportunities for entertainment with augmented reality (AR), virtual reality (VR), and mixed reality (MR) all capable of elevating the world-class performances we know and love even higher!
Manufacturing and Construction
There is a dedicated, strong manufacturing industry in the Vegas area. The city is also a continuous giant construction project with demolitions, renovations, and new construction around every corner. 5G is helping in these efforts from several exciting standpoints:
Automation combined with AI and ML is allowing machinery to perform complex tasks with little to no human interaction. Machines can even adjust and fix errors while communicating in real-time to improve performance and overcome obstacles.
Driverless fleets can transport supplies and people effectively.
5G is enabling factories to not only collect more data points than ever but sort through them and digest these data points. This leads to better intel, higher efficiency, and better operational processes.
Security will help protect intellectual property and physical property from thieves.
Faster networks will facilitate faster communication and capabilities so that jobs are completed faster, saving money.
Manufacturing is a direct industry DISH Wireless has as a target that will benefit from their new Las Vegas 5G network. This is just another reason why Las Vegas is the perfect place for the satellite-TV turned wireless provider to begin its 5G network.
Mining
Beyond the glitz and glamour of flashing lights and entertainment of every sort is the mining industry. There are still mining companies in Las Vegas with gold, silver, and other precious minerals being extracted throughout the state of Nevada. 5G is going to allow autonomous machinery to perform better and create safer environments by allowing machines to perform more dangerous tasks in the field.
Retail
Supply chain efficiency, enhanced security, targeted advertisements that are relevant to customers, and new shopping experiences from XR applications are all on the horizon for the many shops throughout Las Vegas. It doesn't matter if you're looking for the latest designer handbag or simply taking a trip to your local grocery store, your shopping experience in Vegas will never be the same!
Agriculture
Smart agriculture is a huge target market for DISH Wireless and we can think of no greater challenge for 5G than Vegas. There are many farmers raising crops and especially livestock braving some of the harshest terrains in the United States. Farmers have unique challenges and must account for many variables including crop rotation, keeping an adequate amount of water in the desert, supply chain management, and more. Many farmers also struggle with basic communication due to the rural nature of their environment.
DISH Wireless is providing a 5G network capable of handling the needs of the modern farmer. This means better connection and speeds. Through network slicing and fixed wireless, DISH Wireless can deliver these speeds and create networks that perform customized functions such as supply chain management and resource management. Drones and other devices are all on the table, as farmers will reap the full benefit of the Internet of Things (IoT), a concept powered by 5G that will allow various devices to work harmoniously with little to no human interaction, communicating wireless to accomplish common goals.
Unique 5G Features and Partnerships Will Benefit Las Vegas
It's one thing to "talk the talk" about bringing faster speeds and new features, but DISH Wireless is taking the necessary actions to bring these features to life. A large reason for this is DISH's commitment to Open RAN. This allows a variety of companies to work on the 5G network providing the best solution that works together with others for faster, better features and creates an ecosystem for collaboration.
DISH Wireless has a growing list of impressive vendors that are bringing multiple features to its 5G network. These partnerships are highlighted most notably by AWS and Oracle. We've already explored network slicing and Open RAN features of DISH's 5G network, so let's review some of the other exciting features DISH Wireless is bringing to its 5G network and how it will benefit consumers in Las Vegas:
Standalone (SA) 5G
By being a SA 5G network, DISH Wireless will bring unique features to its network that cannot exist in previous generations. A prime example is the offering from its partnership with Oracle helping DISH create its 5G core with control plane components. These components include Network Exposure Function (NEF), Network Repository Function (NRF), and Policy Control (PCF) which will help make network slicing possible.
Cloud-Native
The entire industry took notice when AWS partnered with DISH Wireless by providing its cloud-network features. By putting 5G in the cloud, DISH Wireless can do more, faster, and create a network that has fewer disruptions and more features.
Virtualization
Many vendors will use software to run and upgrade DISH's Las Vegas 5G network. By collaborating with Nokia, DISH Wireless can bring many physical components of its 5G network into the virtual world for better performance, security, and cheaper deployment. Virtualization will also help by providing fewer network disruptions and an easier way to maintain strong signals in harder-to-reach, underserved markets.
Software-Based
Having a software-based, programmable 5G network means faster solutions. Shorter and fewer network interruptions are possible with this approach. DISH Wireless is thinking well beyond the present and building in a viable way to create a flexible approach for the future and maintain even underserved markets for a better network experience. Software-based solutions also mean more customization for those using a network slice for a privatized end-to-end 5G network.
Automation
The irony of 5G is that while it will help power automation, it will also use the technology to elevate itself. Automation will allow for faster solutions during network interruptions, faster download speeds, improved functionality from the IoT, and custom network solutions for entities developed quicker than using traditional methods.
Versatile Spectrum and Native Carrier Aggregation
Versatile spectrum means more coverage because DISH Wireless is building out low-band, mid-band, and mmWave spectrum throughout its 5G network. The difference is that DISH is also taking advantage of native carrier aggregation which will utilize all of these bands for the best courage and experience.
Scalability Through a Greenfield Design
By using a greenfield design and a scalable method of deployment, DISH Wireless will deliver its 5G network faster and cheaper. This means savings for subscribers today and in the future as its scalability will also keep maintenance costs down. Security is also bolstered throughout DISH's 5G network due to scalability that not only finds threats but prevents them altogether.
Security
With 5G connecting us in more ways than ever before, security has never been more important. There are plenty of areas of concern that DISH Wireless must be aware of. Autonomous cars driving humans and items around cities, factories operating dangerous equipment, infrastructure such as pipelines, etc. that can all become vulnerable to attacks. There are also threats to information such as identity theft, ransomware, and corporate espionage.
DISH Wireless isn't taking any chances. By using a "zero-trust" model throughout its 5G network. Instead of trusting internal operations of any kind, DISH Wireless is requiring that everything internal become verified before proceeding. There is a large responsibility on the shoulders of DISH Wireless as it continues to fight and prevent threats to its network. Now, things are amplified due to network slicing and the need to protect many different privatized networks all a part of its overall 5G network.
Las Vegas is Only the Beginning for DISH Wireless
DISH Wireless beginning its journey in Las Vegas, Nevada is a great first step, but the company is dreaming much larger. By June 14, 2025, DISH is aiming to cover the majority of U.S. markets with its 5G network. DISH Wireless will likely begin in urban centers, but with its fixed wireless efforts, rural markets will see the power of 5G faster than many expect. As a SA cloud-native 5G network, DISH Wireless is ensuring that the future is faster than ever and flexible enough to handle the changing demands of an ever-changing world. Soon, cities throughout the United States will enjoy the many benefits we will begin experiencing in the City of Sin sometime in Q3 of 2021!
GET NOTIFIED WHEN DISH WIRELESS BECOMES AVAILABLE IN YOUR AREA!