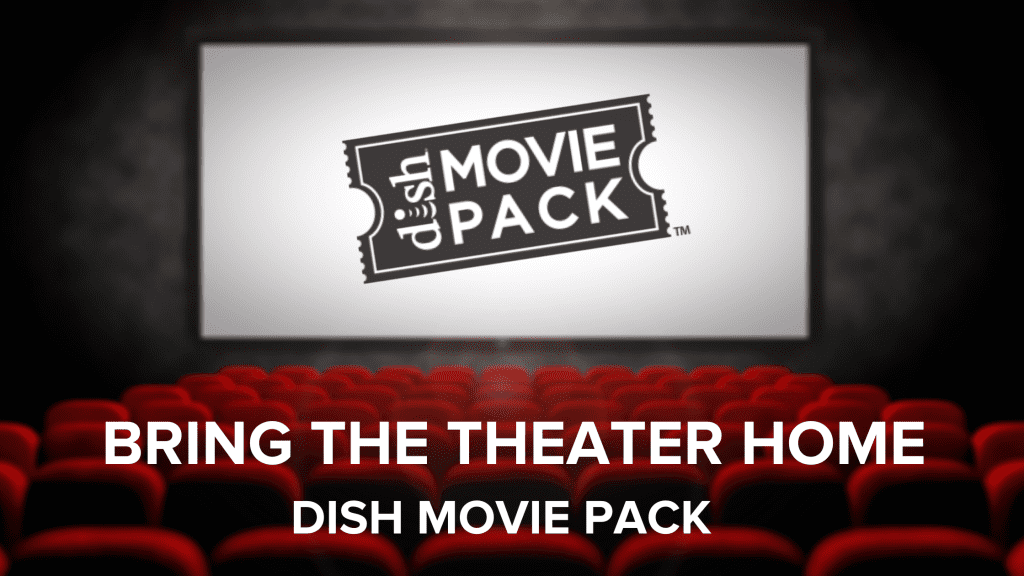 The DISH Movie Pack includes 15 channels and access to thousands of on-demand movies, including new releases that haven't even made it to Netflix or Redbox. All of these channels can be watched from anywhere, anytime with DISH Anywhere and DISH On Demand.
For the price of one movie ticket, the DISH Movie Pack allows you to enjoy thousands of titles across several genres so that you are bound to find something everyone will enjoy!
What Channels Are Included in the DISH Movie Pack?
| | |
| --- | --- |
| Movie Channel | DISH Channel Number |
| HDNET Movies | 130 |
| Hallmark Movies & Mysteries | 187 |
| Crime & Investigation Network | 249 |
| STARZ Encore Suspense | 344 |
| STARZ Kids & Families | 356 |
| MoviePlex | 377 |
| IndiePlex | 378 |
| RetroPlex | 379 |
| EPIX | 380 |
| EPIX 2 | 381 |
| EPIX Hits | 382 |
| FXM | 384 |
| MGM HD | 385 |
| Sony Movie Channel | 386 |
| PixL | 388 |
HDNET Movies
A far-reaching list of movies with everything from westerns to award-winning films to documentaries can be found on this channel. HDNET has also been known to showcase particular genres or themes throughout memorable moments to commemorate and celebrate particular films with famous hosts to guide you through.
Hallmark Movies & Mysteries
Part of the Hallmark family of networks, viewers can enjoy age-appropriate content with a specific focus on mysteries and murder-mysteries. Grab the family, some popcorn, and sit back for some of the most enthralling dramas and mysteries available on DISH Network.
Crime & Investigation Network
Are you a crime junkie? Looking to get lost in the world of investigation and drama? Get a clue with the Crime & Investigation Network. Plenty of crime-drama content that is brought to you 24/7. From documentaries to shows and movies you love, you'll find the best crime-related content here.
STARZ Encore Suspense
Lose yourself as you piece together clues in some of the most robust mystery and suspense content on television. STARZ is known for its quality programming and with the STARZ Encore Suspense package, you'll be treated to all things detective, film noir, mystery, and suspense in movies and series.
STARZ Kids & Family
Keep the kids entertained with movies that are commercial-free and family-friendly. You'll have peace of mind knowing they're viewing age-appropriate content over a range of genres including comedies, dramas, adventure movies, and plenty more. Both live-action and animated content are available.
MoviePlex
MoviePlex is bringing a ton of films from throughout the decades with a specific focus on the 1970s-2000s. Movie lovers can reminisce over a variety of old and new classics that have graced the big screen all from the comfort of their homes. MoviePlex lets you view nostalgia with ease.
IndiePlex
Are you less into movies and more into films? We get you. IndiePlex does too as it offers viewers a front-row ticket to the best in indie films, foreign films, and all things arthouse. Take a break from the mainstream and enjoy artistic films shot around the world.
RetroPlex
RetroPlex takes viewers back to some of the origins of film with an impressive offering of films that debuted between the 1910s and 1980s. Rediscover a classic or learn about some of the pioneering films that help birth the multi-billion dollar industry we know and love today.
EPIX
Making a strong name for itself as a premium movie channel, EPIX brings subscribers a host of films, series, comedy specials, and even music events. View your favorite film, educate yourself with a documentary, or be entertained with some of the best live performers available.
EPIX 2
Take everything you know and love about the original channel and amplify it here with a heightened focus on the hottest blockbuster films, franchises, and of course, plenty of original content and specials to boot. EPIX 2 has something for everyone.
EPIX Hits
A fantastic option for movie purists, while EPIX Hits has been known to play a few reruns of previous unscripted originals, the focus here is on hit movies. Enjoy a variety of old and new movies ranging in their genres with some comedy and music specials thrown in as well.
FXM
Delivering a daytime and early-morning block of content known as FXM Retro which focuses on older films, and another block of content that focuses on recent movies, FXM gives you the best of both worlds. It is a great exploration of the world of film no matter the era.
MGM HD
It's almost impossible to mention entertainment let alone movies without mentioning MGM and here, you'll be treated to a collection of their many films throughout the years. Many of the 1000+ movies are broadcasted uncut and commercial-free. Enjoy one of the deepest libraries of films in Hollywood with ease.
Sony Movie Channel
Adding the Sony Movie Channel gives subscribers instant access to Sony's illustrious film offerings. Responsible for plenty of popular movies involving iconic characters such as Spider-Man and James Bond, Sony brings its wonderful collection to homes across the country with this dedicated channel.
PixL
Wholesome content that comes in the form of both movies and miniseries, PixL is great for families. You'll be able to find entertaining content for yourself and your little ones with films and shows that are not only age-appropriate but also commercial-free.
How to Get Free Movies on DISH Network
A standard perk of any DISH TV package for new and existing DISH Network customers includes access to thousands of free movies through your Hopper and DISH Anywhere app.
How Much is DISH Movie Pack?
The DISH Movie Pack is just $10/month for 15 movie channels and over 80,000 titles in the On Demand library, including exclusive new releases before they're available anywhere else!
How to Buy DISH Movie Pack
The DISH Movie Pack is available for purchase for existing DISH customers for just $10/month as an upgrade. New DISH customers can get the DISH Movie Pack for free for three months and then pay the monthly fee after the free trial has ended.
Learn more about all of DISH's Premium Movie Channel Packages and Add-Ons.