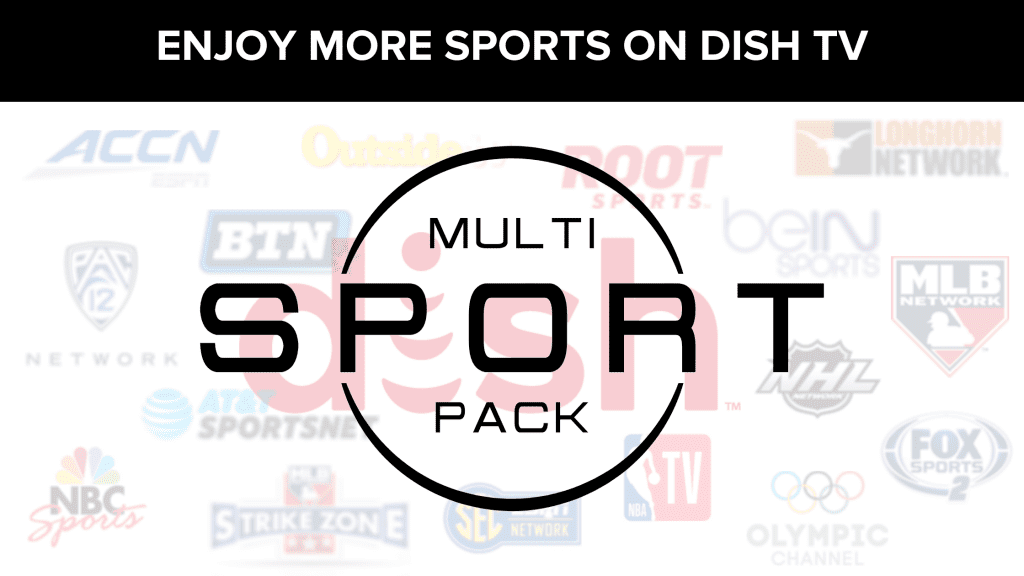 DISH Network's Multi-Sport Pack provides a wide variety of sports across quality networks such as beIN SPORTS, Big Ten Network, Fox Sports 2, MLB Network, NBA TV, NHL Network, PAC-12 Networks, SEC Network, and many more. Everything from college football to Olympic sports is available for just $13 a month.
Who Qualifies for DISH Network's Multi-Sport Pack?
To subscribe to all of the amazing channels that DISH Network's Multi-Sport Pack has to offer, you must subscribe to America's Top 120 Plus package or higher or to DishLATINO Max. GoDISH has plenty of channel package options for subscribers to enjoy one of the best packages in sports television.
DISH Network's Multi-Sport Pack Channels
Boasting some of the most impressive channel offerings in sports television, the Multi-Sport Pack offers top sporting leagues and competitions from a range of different events. Viewers gain insight, highlights, live coverage, and more on networks specializing in some of the most recognizable leagues in sports. Learn more about what each channel brings to your home or get started today with a subscription from GoDISH:
ACC Network
The ACC Network delivers the best in college football, Olympic sports, men and women's basketball, and more that the Atlantic Coast Conference has to offer. Subscribers can enjoy enhanced analysis, highlights, and more all surrounding the teams and events of the ACC.
AT&T Sportsnet
AT&T Sportsnet provides subscribers with various regional sports coverages for areas including Pittsburgh, the Rocky Mountains, and Southwest. This includes coverage for collegiate, professional, and even high school levels of sports encompassing a variety of spectacles all presented in the highest quality.
beIN SPORTS
Home to top soccer leagues from Europe, International soccer games, rugby, tennis, motorsports, and plenty more, beIN SPORTS has it all. Boasting leagues such as La Liga, Ligue 1, and championships such as MotoGP, you can be in the action of a variety of sports without ever leaving your home.
Big Ten Network
The Big Ten Network highlights one of the biggest conferences with extensive coverage, insight, and highlights of assorted sports-related content that include basketball, eSports, football, and more. Whether you rep THE Ohio State or a die-hard Hawkeye or just a college sports fan in general, this network has it all.
Fox Sports 2
FS2 brings sports fans together for a motley of different sporting events including MMA, Australian rules football, Major League Rugby matches, and more. This channel is made for sports lovers who love traditional sports but also discovering a new passion. Variety awaits when you subscribe to Fox Sports 2.
Longhorn Network
Can't get enough of the Texas Longhorns? Show your fandom and indulge in original series, in-depth analysis, live games, and plenty more surrounding 20 different sports from the University of Texas as well as content focused more on academics and Austin culture.
MLB Network
Home runs, stolen bases, and enough baseball talk to make your head spin. The MLB Network simply gives you more of America's pastime in all of its glory. Watch shows dedicated to the top league in baseball, enjoy live games, and so much more when you subscribe.
MLB Network Strike Zone
No commercials, just baseball, and it's all being delivered to you from the comfort of your choosing. MLB Network Strike Zone puts you in the middle of the hottest action baseball has to offer with live look-ins, highlights moments after they have happened, and a comprehensive look at the league all brought to you live.
NBA TV
If "ball is life" then subscribing to NBA TV is a no-brainer. Stocked full of basketball programming, discussions, highlights, and even live games, NBA TV brings more content to hoop fans like never before. You can even follow games in foreign leagues such as Euroleague or follow Maccabi Tel Aviv.
NBC Sports
It's hard to find a better network than NBC Sports. You can watch the Triple Crown, French Open, NFL, NHL, PGA Tour, NASCAR, Premier League, and plenty more. It is also the home of Notre Dame football and broadcasts Olympic content. Its regional channels offer a variety of sports coverage.
NHL Network
Highlights, discussions, and live games await hockey fans across North America when they tune in to the NHL Network. With a strong lineup of shows and games each week, the NHL Network shows the best in hock-centric programming that is available in both the United States and Canada.
Olympic Channel
Into the Olympics? You don't have to wait every 4 years. When you have access to the Olympic Channel, you have access to all things Olympics, Winter Olympics, Paralympics, and more 24/7 365. This includes not only original content and news surrounding the games but live events and more.
Outside TV
Surf the biggest waves, ski down backcountry, hike through the wilderness, kayak down a mighty river and so much more. You can get reconnected with the great outdoors and all of the recreational fun it can bring straight from your home with Outside TV.
Pac-12 Networks
The Pac-12 Networks provide viewers numerous regional coverage options focused on all of the universities that make up this historic conference. Subscribers can enjoy well over 800 events each year through the networks with additional Pac-12 related shows full of content.
ROOT SPORTS
A healthy mix of collegiate, high school, and professional sports, ROOT SPORTS brings viewers into the action across a diversified offering of content and live games. This network is actually many different networks that work together to bring regional coverage to some of the top teams and leagues in North America.
SEC Network
You would be hard-pressed to find a more adamant fanbase within college sports than the SEC. Now, SEC fans and sports fans, in general, can enjoy one of the most competitive conferences in college with original programming, analysis, and live games from across all 21 SEC sports.
DISH Network Multi-Sport Pack Channel Guide
| | |
| --- | --- |
| Nationally Televised Network | DISH Network Channel |
| ACC Network | 402 |
| AT&T Sportsnet | 411 |
| beIN SPORTS | 861 |
| Big Ten Network | 439 |
| Fox Sports 2 | 149 |
| Longhorn Network | 407 |
| MLB Network | 152 |
| MLB Network Strike Zone | 153 |
| NBA TV | 156 |
| NBC Sports | 159 |
| NHL Network | 157 |
| Olympic Channel | 389 |
| Outside TV | 390 |
| Pac-12 Networks | 406/409 |
| ROOT SPORTS | 426 |
| SEC Network | 404 |
Learn more about all of DISH's Sports Packages and Add-On Channels.