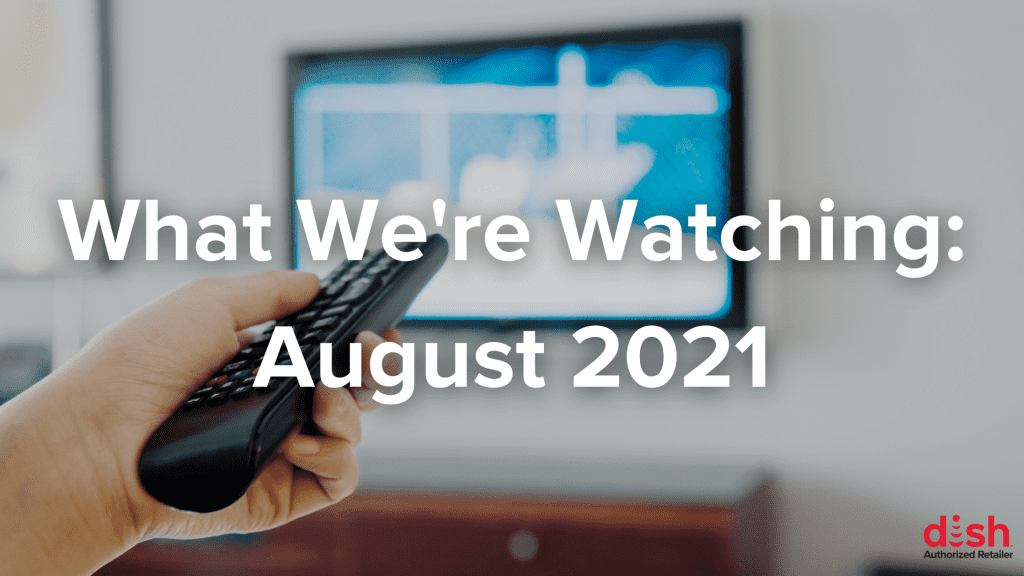 Endlessly flipping through the guide page not knowing what's good to watch gets old real fast. Well, that ends today because we put together a list of our top shows to binge-watch this August. From game shows to serial killers, we have something for everyone to get into. Check out what we're watching on DISH Network this month!
Our Tops Picks for August
Family Game Fight!
NBC's highly anticipated new competition game show series, "Family Game Fight!" hosted by Kristen Bell and Dax Shepard, is finally here. The show consists of the husband and wife duo put against each other as they are "adopted" into a family of four competing for $100,000 in a series of engaging, larger-than-life games. You can catch all the fun-filled action on Sunday, August 8 at 10:30 p.m. ET/PT, immediately following the Closing Ceremony of the Summer Olympics. The series makes its time-period premiere with an all-new episode on Wednesday, August 11 at 9 p.m. ET/PT.
DISH Channel: NBC
UFO
This four-part docu-series explores our obsession with unidentified flying objects. Explore the hush-hush influence and truths about extraterrestrial life that were covered up by the American government, the military, and well-paid private companies to further their own agendas. See the mystery unravel on Sunday, August 8 at 9 p.m. ET/PT on Showtime.
DISH Channel: Showtime (318)
Fantasy Island
The new drama series, "Fantasy Island," takes place at a luxury resort, where literally any fantasy requested by the guests is granted. However, each fantasy doesn't always turn out how they expected. Each episode will explore emotional stories about the dreams and desires of the guests, who leave transformed and are more open-minded through the magical reality of Fantasy Island. Watch the perplexing fantasy unfold on Tuesday, August 10.
DISH Channel: Fox
Reservation Dogs
This new comedy is a revolutionary series in terms of its Indigenous representation and behind-the-scenes involvement. Co-created by Sterlin Harjo and Taika Waititi, the show was filmed in Okmulgee, Oklahoma, and follows four teens who live on an underprivileged reservation with full intentions of doing whatever it takes to get out and make it to California. You can watch this never-been-done-before series on August 9 on FX.
DISH Channel: FX (136)
Awkwafina is Nora from Queens
This scripted comedy is loosely based on Awkwafina's (Nora Lum) real-life growing up in Flushing. Raised by her dad and grandma alongside her cousin, Nora relies on her family as she discovers life, and enters her first stages of adulthood. Season 2 premieres on August 18 on Comedy Central.
DISH Channel: Comedy Central (107)
The Ultimate Surfer
ABC is making serious waves with the new competition series, "The Ultimate Surfer." The series will follow some of the world's greatest up-and-coming surfers as they train and live together to battle it out for the World Surf League at Surf Ranch in Lemoore, California, powered by Kelly Slater's human-made wave technology. See how alliances and rivalries form as the surfers compete in individual and team challenges that are focused on specific surfing disciplines. Hosting the show will be former NFL quarterback Jesse Palmer, sports anchor Erin Coscarelli, and the legendary voice of professional surfing Joe Turpel. Eleven-time surfing world champion Kelly Slater is the lead consultant and also will serve as a special correspondent. The Ultimate Surfer is set to air Monday, August 23, and Tuesday, August 24 (10:00-11:00 p.m. EDT).
DISH Channel: ABC
Invisible Monsters: Serial Killers in America
"Invisible Monsters: Serial Killers in America" takes a peek at the stories of five infamous serial killers – Ted Bundy, Jeffrey Dahmer, John Wayne Gacy, The Green River Killer, and BTK, in a three-night event. Discover what was happening in culture, communications, media, forensics, law enforcement, and technology that allowed them to move quickly and avoid being caught. See how these seemingly normal men transform into violent murderers that were at odds with their reserved public existence. The stories of these invisible monsters are told by those closest to them, including interviews with survivors, investigators, forensic psychologists, prosecutors, and victims' family members. See how they still struggle to make peace with the monsters hiding in plain sight on Sunday, August 16 (8 p.m. CT).
DISH Channel: A&E (118)
American Horror Story: Double Feature
The tenth season of Ryan Murphy's iconic anthology series American Horror Story is named Double Feature. The new season is broken up into two separate stories, with one taking place by the sand and the other by the sea. The Double Feature season will showcase a very talented cast, many of which are returning members from past seasons. The alum that will be returning includes, Evan Peters, Kathy Bates, Billie Lourd, Finn Wittrock, Lily Rabe, Leslie Grossman, Adina Porter, and Angelica Ross. Newcomers to the show will include child star, Macaulay Culkin, as well as Desperate Housewives and Arrow star, Neal McDonough. Series alum Sarah Paulson will be a director of the tenth season, but it doesn't seem like she will be making an appearance on the show. American Horror Story: Double Feature is set to premiere on Wednesday, August 25.
DISH Channel: FX (136)
Watch All These Shows and More With DISH Network!
When you become a part of the DISH Network family, you gain insight into endless shows, movies, and more! Watch over 290+ channels and customize your content preferences so that there is something for everyone to watch.
Any TV package you select, you automatically receive a two-year price lock guarantee, and the perks don't stop there! As a DISH customer, you also gain access to The Hopper, Voice Remote, On Demand movies and shows, free HD for life, free premium channels, special offers, and an exceptional customer service experience. See how DISH Network has maintained being one of the leading TV providers in the country and why millions are making the switch today!