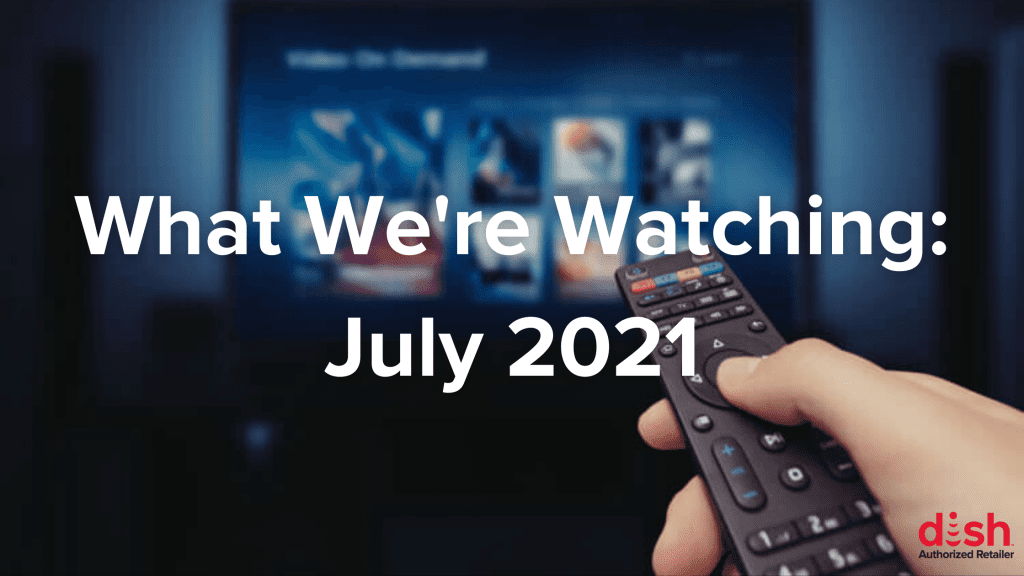 Are you tired of flipping through channels because you can't decide on what to watch? Not to worry! We've compiled a list of our top picks to engage in this July. From reality TV to the 2020 Summer Olympics in Tokyo, we have something for everyone to watch. Check out what's new on DISH Network this month!
Our Top Picks For July
Eden: Untamed Planet
Travel to the far corners of the planet and discover the mysteries of Earth's few remaining untouched lands, all thriving and flourishing with rich biodiversity. Hidden from the rest of the world, life here exists as nature truly intended. See unique ecosystems and embark on a breath-taking journey to the last utopias on Earth. Eden: Untamed Planet invites you to explore places you've never seen before on July 24 at 8 p.m. EDT on BBC America and AMC.
DISH Channel: AMC: 131 and BBC America: 135
Love Island
This reality show involves a group of single contestants, referred to as islanders, living in isolation from the outside world under continual video surveillance. The islanders couple up and go on dates to see if they are compatible, but their true destiny is in your hands. You get to vote on your favorite couple or who you think is a perfect match through the Love Island App. Buckle down as this show airs almost every night, so you never run out of content to watch. Following its season premiere, Love Island will air Thursday and Friday at 9:00 ET/PT and Sunday at 9:00 ET/PT during its first week. Then, the series will air Tuesdays through Fridays at 9:00 ET/PT, and Sundays at 9:00 PM, ET/PT for the remainder of the season.
DISH Channel: CBS
Shark Week
This July you can watch more hours of shark programming than ever before! Shark Week highlights the fascinating science of the apex predators, and will also feature celebrities including Tiffany Haddish, Brad Paisley, the cast of Jackass, and many more who will be diving into the water for a once-in-a-lifetime shark adventure. In addition, you'll get to hear from the world's most respected marine biologists and science institutions. Shark Week will deliver new incredible shark research and interesting insight on some of the most extraordinary shark species in the world. The adventures start at 7 p.m. PT this week and will continue till Sunday 7/18.
DISH Channel: Discovery Channel (182)
Dr. Pimple Popper
From popped blackheads to cysts galore, you may have thought you've seen it all, but TLC's Dr. Pimple Popper season six is back with new popping challenges for Dr. Sandra Lee. One of the more interesting cases is a man with a very large rhinophyma growth on his nose. The size of this thing is just one of the wow-factors, as flies literally land on it as Dr. Lee examines. If you have a weird interest in watching pimples pop, you can catch the new season of Dr. Pimple Popper on Wednesday, July 14, at 9 p.m. ET.
DISH Channel: TLC (183)
The Oval
The Oval is a new drama series that follows the changeable relationship between the President, First Lady, and First children as they navigate their new life in the White House. The series follows President Hunter Franklin and his wife, Victoria Franklin as they take on the highest office in the United States and are faced with more than just the country's problems. President Franklin preached strong family values throughout his campaign when in reality his family unity is weaker than ever. Throughout the series, you'll see an endless amount of drama that includes affairs, family feuds, and rebellious teenagers. The Oval premieres Tuesday, July 20 at 9 p.m. on BET.
DISH Channel: BET (124)
Big Brother
Sixteen strangers will move in with only one goal in mind: to win the prize of $500,000. But first, they must compete for safety and power each week through skill, strategy, and social manipulation. Inside the house consist of 94 cameras and 194 microphones that will capture every move 24/7, so you'll never miss a beat on any of the plotting and scheming that goes on in the Big Brother house. Each week, the Houseguests will vote someone out of the house, and at the end of the show, the last remaining Houseguest will win the grand prize. Catch all the unexpected twists this season every Wednesday, Thursday, and Sunday at 7 p.m. CBS.
DISH Channel: CBS
Tokyo 2020 Olympics
It took longer than we all expected but the Games of the 2020 Olympics are finally here. This summer's Olympic Games will be held in Tokyo, Japan, and will take place July 23-August 8, 2021. With 41 sports and 339 medal events, you can watch all the action on NBC, NBC Sports, or on Peacock. But the best way to watch the Olympic Games is on DISH Network!
DISH Channel: NBC (2) or NBC Sports (159)
Free On-Demand Movies for July 2021
Stream On Demand movies and shows by simply saying "On Demand" into your Voice Remote or by turning the channel to 300 on your receiver. Here is what you can watch any time anywhere this July.
Lone Survivor
Four Navy SEALs battle a small Taliban army during a botched mission in the Afghan mountains in this incredible story based on real-life events. Although they are significantly outnumbered the soldiers get help from several local villagers, whose code of honor requires them to aid any "guest" they cross paths with.
Sully
The story of Chesley "Sully" Sullenberger (Tom Hanks), an American pilot who became a hero after landing his damaged plane on the Hudson River in order to save the lives of passengers and crew members.
Patriots Day
The story of the 2013 Boston Marathon bombing and the aftermath, which includes the city-wide manhunt to find the terrorists responsible.
American Sniper
Navy S.E.A.L, sniper Chris Kyle's pinpoint accuracy saves countless lives on the battlefield and turns him into a legend. Back home with his family after four tours of duty, however, Chris finds that he can't leave the war behind.
Watch All the Movies, Shows, and More With DISH Network!
When you subscribe to DISH Network, you gain insight into engaging content! As a DISH customer, your TV watching experience is tailored to your content preferences, and with over 290+ channels, there's something for everyone to watch!
No matter what TV package you choose, you get a two-year price lock guarantee. In addition to maintaining a great rate and gaining access to various channel packages, you also get The Hopper, Voice Remote, free HD for life, On Demand movies and shows, free premium channels, special deals, and most importantly the best customer service experience there is! See how DISH Network has continued to be one of the top TV providers in the U.S. and why millions are making the switch today!