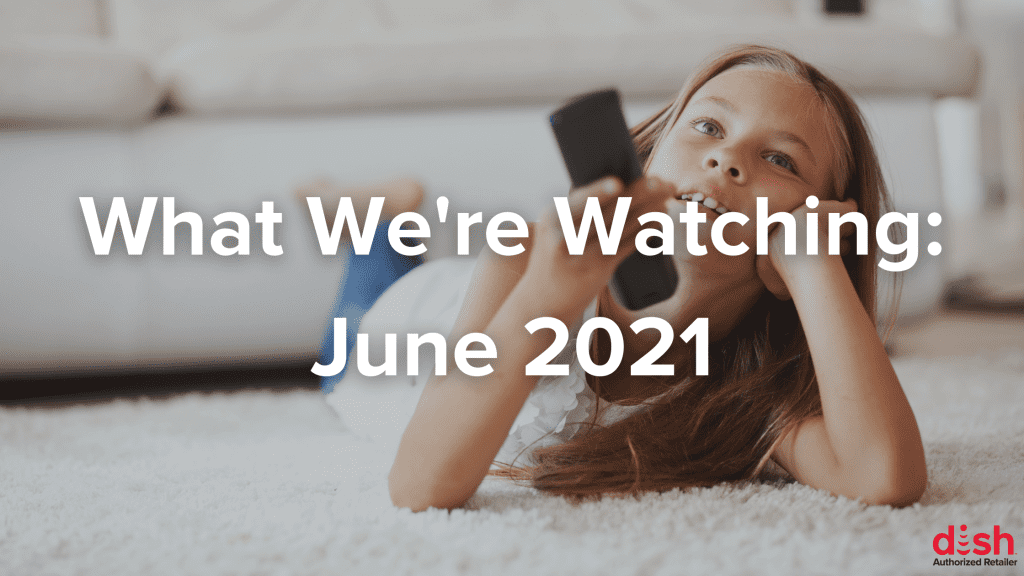 With the school year coming to an end, DISH Network is hosting its fourth annual Kids Binge-A-Palooza. For the month of June, check out Channel 100 for your one-stop-shop of kid content. There will be endless shows and movies, so your kiddos will be entertained all month long! We have you covered, so kick back, relax, and start your summer off right! Here is some of the content that will be featured on this year's Kids Binge-A-Palooza.
Our Top Picks For Kids Binge-A-Palooza This June
PAW Patrol
Led by 10-year-old Ryder, the pups of PAW Patrol are rescue dogs in training. Each pup is inspired by real-world heroes such as police officers and firefighters. When danger strikes, the team is there to save the day! You can catch all the action on Fridays at noon ET on Nick Jr.
DISH Channel: 169
The Chicken Squad
The Chicken Squad is a new Disney Junior series that was inspired by the children's book by Doreen Cronin. The show follows the lives of three young chicken siblings, Coop, Little Boo, and Sweetie, as well as their retired search and rescue dog mentor, Captain Tully. The chicken siblings take on problem-solving adventures in their backyard by helping friends and representing what it means to be a good community helper. See what adventure the chicken squad goes on next on Fridays at 7:30 pm ET on Disney Junior.
DISH Channel: 168
Danger Force
Captain Man has a new team of superhero sidekicks, where he and Schwoz create a fake school to train kids to learn how to control their superpowers and use them to fight crime. You can catch all the action on Saturdays at 8 pm ET on Nickelodeon.
DISH Channel: 170
Baby Shark's Big Show!
PINKFONG's iconic brand, Baby Shark, has a new upbeat preschool series spin-off. See how Baby Shark and his best friend, William the fish, journey on amusing adventures in their community of Carnivore Cove. Watch Baby Shark's fun experiences every Friday at 12:30 pm ET on Nick Jr.
DISH Channel: 169
DuckTales
Inspired by Uncle Scrooge and other Duck universe comic books created by Carl Barks is the show DuckTales. The show follows Scrooge McDuck, his three grandnephews Huey, Dewey, and Louie, as well as close friends of the group, on an assortment of adventures that consists of seeking out hidden treasure or fighting off villains who want to steal Scrooge's fortune. See what adventure the ducks go on next on Disney XD.
DISH Channel: 174
The Casagrandes
A spin-off of The Loud House featuring 11-year-old Ronnie Anne Santiago is the show The Casagrandes. The show follows Ronnie moving to the big city with her mother and older brother Bobby, where they start their new lives living under one roof with their Mexican-American family that she meets for the first time. See how Ronnie takes on her new life every Friday at 7 pm on Nickelodeon.
DISH Channel: 170
Teen Titans Go!
A spin-off of the popular show Teen Titans takes on a more comedic look at the teen superhero's life once the capes come off. Between saving the world and being normal teenagers, Robin, Starfire, Beast Boy, Raven, and Cyborg encounter funny experiences as they live together without adult supervision. The show follows the teens in their ordinary lives as adolescents, but of course, the teen heroes still fight crime in Jump City when they are needed. Regardless of the situation, they are always ready to take on any adventure. Catch all the action every Saturday at 10 am ET on Cartoon Network.
DISH Channel: 176
Blue's Clues & You!
Every game of Blue's Clues includes problem-solving, viewer interaction, and of course, "mailtime!" In this new reboot, you'll see the animated gang of Tickety Tack, Bucket, Shovel, and Magenta, as well as Monsieur Salz, Madame Pfeffer, and their children Paprika and Cinnamon. The cast includes a new host: Josh, who's just learning how to play Blue's Clues. See what clues the gang solves next on Fridays at 11 am ET on Nick Jr.
DISH Channel: 169
Free On-Demand Movies for June 2021
Check out this month's free On Demand movies!
How to Train Your Dragon: The Hidden World
When Hiccup discovers Toothless isn't the only Night Fury Dragon, he is eager to find "The Hidden World," a mysterious dragon utopia before a hired evil oppressor named Grimmel finds it first.
Max
After U.S. Marine Kyle Wincott is killed in Afghanistan, Max, his trained service dog, is severely traumatized to remain in service. Back at home, Kyle's family adopts Max, but teen brother Justin has his own problems and doesn't want to keep Max. Nevertheless, Max may be the only source of learning what really happened to his brother. Over time, Justin and Max develop a friendship and begin exploring the mystery of Kyle's death.
Pokemon Detective Pikachu
Ace detective Harry Goodman suddenly goes missing, motivating his 21-year-old son, Tim, to find out what happened to his dad. Assisting him in the investigation is Harry's former Pokemon partner, sarcastic, yet cute Detective Pikachu. They quickly establish that they are uniquely capable of working together, as Tim is the only human who can communicate with Pikachu, they become the dynamic duo to resolve the twisted mystery.
Angels in the Infield
A declining baseball pitcher made a major mistake in an important game and lost not only the game but his family as well. However, his daughter is still rooting for him, and with the help of her guardian angel, another ex-baseball player, not only builds back his confidence, but she also resolves her own issues with ballet.
You can stream these On Demand movies by visiting channel 300 or just by saying "On Demand" into your Voice Remote.
Watch All the Movies, Shows, and More With DISH Network!
When you become a part of the DISH Network family, you gain access to endless amounts of TV and movies! With more than 290+ channels to binge-watch, it's easy to see why DISH has continued to be one of the top TV providers in the U.S.
As a DISH customer, your TV watching experience will be unique! No matter what TV package you select, you get a two-year price lock guarantee. In addition to maintaining a great rate and gaining access to various channel packages, you also get The Hopper, Voice Remote, HD programming, On Demand movies and shows, free premium channels, special deals, and most importantly the best customer service experience there is! See why millions are subscribing to DISH Network and make the switch today!