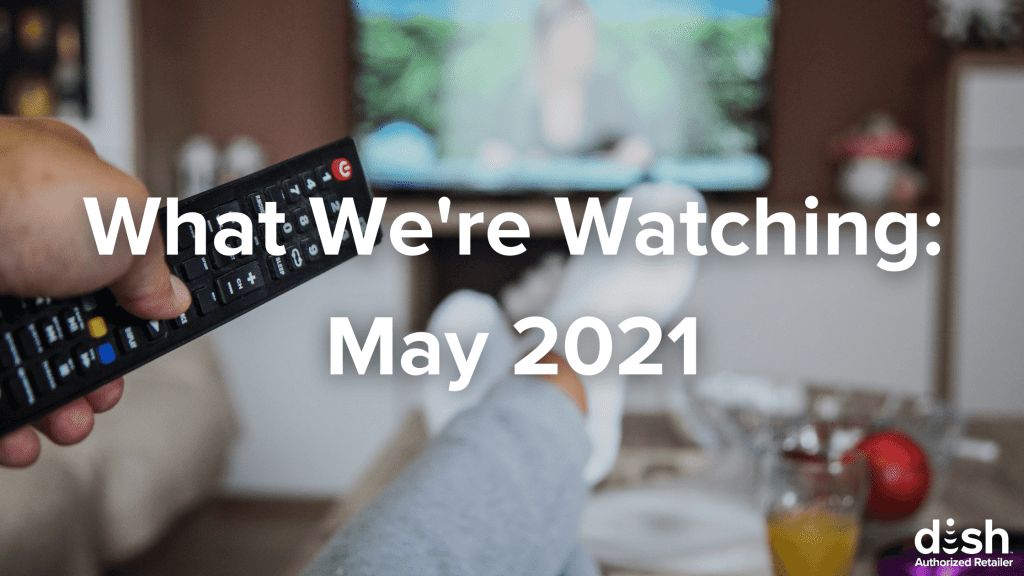 With so many new movies and TV shows being released, it can be overwhelming trying to decide what to watch. But not to worry, we have you covered! We picked our favorites to watch this May on DISH Network. Pop some popcorn, sick back, relax and engage in our top picks all month long with DISH's May 2021 lineup.
Our Top May 2021 Picks
Chad
The new series "Chad" stars Nasim Pedrad, a 39-year-old woman, who plays a 14-year-old boy. Blending hilarious cringe comedy with relatable awkward teen moments, Chad experiences the dreadful in-between age of childhood and adolescence through the eyes of a self-centered Persian boy who will do whatever it takes to be popular. See how Chad takes desperate measures to be one of the cool kids on Tuesdays at 10:30 pm ET on TBS.
DISH Network Channel: 139
The Titans That Built America
"The Titans That Built America" is a three-night mini-series event that narrates the fascinating rivalries of industrial leaders William Boeing, JP Morgan Jr, Walter Chrysler, and Pierre Du Pont. The cut-throat, intelligent, creative titans battle each other, and FDR to develop new industries at a time when the country was in a great deal of trouble. Catch all this historic feud on Monday, May 31 at 9 pm ET on the History Channel.
DISH Network Channel: 120
9-1-1 Lone Star
Rob Lowe stars as Owen Strand, a New York firefighter, who was one of the only survivors of his Manhattan firehouse on 9/11. When a similar tragedy happens in a firehouse in Austin, Texas, Owen and his troubled son move to the Lone Star State to help the fire station get a fresh start. On the surface, Owen seems like he has it all together, but underneath he struggles with a secret he hides that could potentially end his life. See what happens next on Mondays at 9 pm ET on Fox.
DISH Network Channel: Fox
The Hills: New Beginnings
Based on the series "The Hills," "The Hills: New Beginnings" reunites the original cast and brings in new faces to explore their new chapters in life. This season the group is at a turning point and their patience is tested like never before. While some are trying to bounce back from the financial struggles from the pandemic, others are struggling with addiction and mental health. See how the group navigates through the ups and downs on Wednesdays at 9 pm ET on MTV.
DISH Network Channel: 160
Escape to the Chateau
Lieutenant colonel Dick Strawbridge and his partner Angel Adoree swap out their apartment for a dated 19-century French chateau. The couple works to renovate and redesign 45 rooms and 12 acres into a fairytale castle for their upcoming wedding. See this historic chateau come back to life on Saturdays at 8 pm ET on HGTV.
DISH Network Channel: 112
Restaurant Impossible
Season 18 of "Restaurant Impossible" is back by popular demand. Chef Robert Irvine attempts to transform restaurants all across the country that are about to go out of business if things don't change for the better. Chef Robert has a $10,000 budget and two days to work his creative magic to turn the restaurant's fortunes around. Watch all the restaurant renovations on Thursdays at 9 pm ET on the Food Network.
DISH Network Channel: 110
Monster Fish
America's sportsman Trev Gowdy and his team travel the world in search of the largest and most bizarre species of fish. It's all about the size, the challenge of catching them, and strategies to complete the task of catching the biggest fish in the world. Catch all the action on Sundays at 5:30 pm ET on World Fishing Network.
DISH Network Channel: 394
Miss Universe
After a year and a half, the 69th Miss Universe competition will be held in Hollywood, Florida this May. Fifty-one women, including politicians, philanthropists, and more, from all over America come together to compete for the title of Miss USA. Watch the beauty queens battle it out on Sunday, May 16 at 8 pm ET on FYI.
DISH Network Channel: 119
Free On-Demand Movies for May 2021
May the 4th be with you! Check out the Star Wars collection free On Demand this month.
Solo: A Star Wars Story
Star Wars: The Last Jedi
Rogue One: A Star Wars Story
Star Wars: The Force Awakens
Star Wars: Revenge of the Sith
Star Wars: Attack of the Clones
Star Wars: The Phantom Menace
Star Wars: Return of the Jedi
Star Wars: The Empire Strikes Back
Star Wars: A New Hope
Stream On Demand movies by visiting channel 300 or just by saying "On Demand" into your Voice Remote!
Never Miss a Moment With DISH Network!
With DISH Network, you'll have endless amounts of TV and movies! With over 290+ channels to choose from, it's easy to see why DISH is one of America's top TV providers. Start watching on DISH Network today with TV packages starting at $79.99 with a 3-Year TV Price Guarantee. As a DISH customer, you immediately get access to a variety of channel packages, The Hopper, Voice Remote, HD programming, free premium channels, special deals, and so much more!