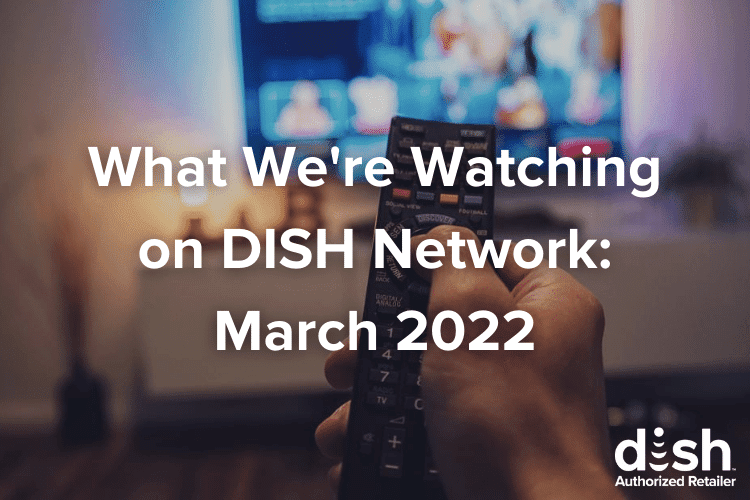 It's a new month which means there's a whole bunch of new things to watch and experience with DISH Network! From DISH's Bracket Challenge to new season premieres, gorgeous scapes, and free movies- a lot is going on, and we don't want you to miss a second. We've compiled our must-not-miss hits coming up, so grab your favorite snack and spot on the couch and let's start watching DISH's March 2022 lineup! 
DISH Network Bracket Challenge
Are you feeling lucky? Tune to channel 159 on March 13th to create your bracket on DISH for your chance to win $1,000,000!
Our Top March 2022 TV Picks
March 2022 Free Previews on DISH Network
Every month, DISH Network features four FREE channels for you to enjoy! For the entire month of March, enjoy these fan favorites:
Hallmark Channel (Ch. 185) Available 3/1-3/31
Discovery en Español (Ch. 185) Available 3/1-3/31
BBC America (Ch. 135) Available 3/1-3/31
SundanceTV (Ch. 126) Available 3/1-3/31
For a select period, you can preview premium channels for FREE! This month includes:
HBO (Ch. 310-315) Available 3/10-3/14
Cinemax (Ch. 307-309) Available 3/10-3/14
NHL Center Ice (Ch. 475) Available 3/10-3/18
DogTV (Ch. 285) Available 3/3-3/10
Up Faith & Family (Ch. 188) Available 3/3-3/9
MLB Extra Innings (Ch. 476) Available 3/31-4/7
*For details, visit DISH.com
Must-Watch TV Shows This Month on DISH Network
Transplant 
Dr. Bashir Hamed has fled his war-torn country of Syria to Canada to start a new life and continue his career as an ER doctor. Watch all the drama unfold as he learns to survive in the ever-challenging world of emergency medicine.
DISH Network Channel: NBC (Local channel)
Bravo's Top Chef 
Sharpen those knives; Top Chef is back! Don't miss a second of this fan-favorite reality competition as expert chefs from around the country cook off in weekly challenges to secure the top spot and avoid elimination.
DISH Network Channel: Bravo (Ch. 129)
Million Dollar Hustle 
Watch the drama and hustle unfold as Lifetime follows around women leaders, known as the Circle of Bosses, who fight to stay in self-made millionaire Stormy Wellington's inner circle through money-making challenges and true-grit determination.
DISH Network Channel: Lifetime (Ch. 108 )
Fairview
National politics bring big drama to the small town of Fairview.
DISH Network Channel: Comedy Central (Ch. 107 )
Temptation Island
Everyone's favorite guilty pleasure is back! Follow along as couples visit a tropical paradise to take the ultimate test of commitment to see if they're truly ready to commit to each other for the rest of their lives.
DISH Network Channel: USA (Ch. 105 )
Lost Gold of the Aztecs 
Follow along as three families look to break the 500-year old curse of Emperor Montezuma and find a treasure worth $3 billion.
DISH Network Channel: History (Ch. 120 )
Secrets in the Ice 
Bones, mummified bodies, forgotten treasures, and other dark secrets all wait to be exposed from some of the coldest places on earth from the world's leading archeologists on Secrets in the Ice.
DISH Network Channel: Science (Ch. 193)
100 Day Dream Home 
Husband and wife, Mika and Biran Kleinschmidt take their talents to Tampa, Florida, to make other family's dream homes come true.
DISH Network Channel: HGTV (Ch. 112)
Check out the complete list of highlighted TV shows on DISH Network this month.
Free On-Demand Movies March 2022
Stream On Demand movies by visiting channel 300 or saying "On Demand" into your Voice Remote! Here are the top free movies playing all month long:
Ben-Hur starring Jack Hutson, Toby Kebbell, Rodrigo Santoro, and Nazanin Boniadi
Spider-Man 2 starring Tobey Macquire, Kirsten Dunst, Alfred Molina, and Willem Dafoe
The Wizard of Oz: starring Judy Garland, Frank Morgan, Roy Bogler, Bert Lahr, Jack Haley, Billie Burke, and Margaret Hamilton
Star Wars: A New Hope: starring Harrison Ford, Mark Hamill, Carrie Fisher, Alex Guinness, Peter Mayhew, and David Prowse
Save on TV Every Month with DISH Network! 
Get the best value in TV without ever sacrificing the content you want to watch with DISH Network. Packages start at $69.99/month for 190+ channels, including locals, and it only gets better from there! The best part? Every customer is backed by DISH's exclusive two-year price lock guarantee. This means your TV bill will be the same every month and never go up, for two years!
Get started with DISH today and check out our internet bundling options for even more savings. Click here to start saving money or call us at 1-888-291-7119.