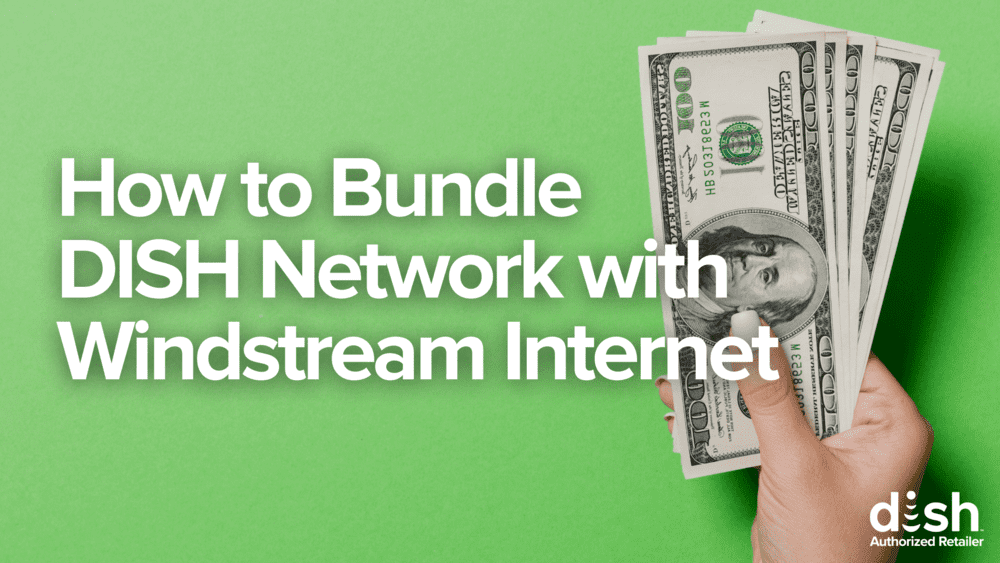 When it comes to high-quality satellite TV, DISH Network outperforms the competition every time. DISH Network offers a variety of channel packages that are tailored to what you like to watch, engaging entertainment features that create a jaw-dropping experience, add-on packages to customize your TV watching, over 80,000 On Demand movies and shows, integrated popular apps such as Amazon Prime Video, Pandora, and Netflix, as well as award-winning customer service. These are just a few highlights that you get when you subscribe to DISH Network. If you are interested in adding high-speed Internet to your service, look no further than the Windstream and DISH Network bundle!
DISH Network dominates satellite television and serves hard-to-reach homes throughout the country. You can now bundle your favorite movies and shows from DISH with kinetic high-speed Internet from Windstream. This amazing deal might seem too good to be true, but when you bundle with Windstream you will receive one of the best opportunities to take your entertainment to the next level. Windstream offers advanced high-speed home Internet options that DISH Network subscribers can take full advantage of when they bundle their TV and Internet together in one convenient package.
Bundling DISH with Windstream Internet can help you get more without breaking the bank, by creating opportunities for substantial savings, amplifying your entertainment, and staying connected everywhere you go. Learn more about how bundling DISH Network and Windstream together can not only save you money but also provide you with reliable TV and Internet.
Windstream Internet Bundled Pricing
Windstream allows you to get high-speed Internet for a great price no matter what speed you choose. For just $27.00 a month, you can receive 50 Mbps of blazing-fast Internet speed for the best Wi-Fi experience available. Windstream provides super-fast internet speeds on their advanced fiber-backed network with no data caps or overage charges. They also give you the freedom to choose a month-to-month plan for ultimate flexibility. You can trust that a Windstream and DISH Network bundle will provide you not only with excellent services, but great customer service teams ready to serve your every need.
DISH TV Bundled Pricing
DISH Network adds to the bundle by offering the best satellite television experience that outshines its competitors. There are a variety of channel packages to choose from and you can even add on more packages that are tailored to the channels you like to watch. Take a closer look at the channel packages available to help you have a stellar television experience all while saving money every month:
| | | | | | |
| --- | --- | --- | --- | --- | --- |
| DISH Network Package | DISH Monthly Price | # of Channels | Starting Monthly Price for Windstream Internet | Windstream Package Speed | Total DISH Monthly Bundle Price with Windstream Internet |
| America's Top 120 | $79.99 | 190 | $27.00 | Up to 50 Mbps* | $106.99 |
| America's Top 120 Plus | $94.99 | 190+ | $27.00 | Up to 50 Mbps* | $121.99 |
| America's Top 200 | $99.99 | 240+ | $27.00 | Up to 50 Mbps* | $126.99 |
| America's Top 250 | $109.99 | 290+ | $27.00 | Up to 50 Mbps* | $136.99 |
*Windstream internet speeds will vary depending on location and availability.
One benefit you get when you subscribe to DISH Network is the 3-Year TV Price Lock Guarantee, which means the price you see is the price you get. Instead of increasing your rate after a year, DISH promises to honor the same rate for the next three years! Subscribers can also have the option to add on niche packages that fit with what you like to watch. From lifestyle to sporting channels and more, check out some of the engaging add-ons available to DISH Network subscribers:
| | | |
| --- | --- | --- |
| DISH Network Add-On | Starting Monthly Price | Description |
| Multi-Sport Pack | $13.00 | 49 channels covering a variety of sports, leagues, and competitions including the NFL Network, various collegiate sports, MLB Network, NBA TV, and much more. |
| Various Premium Channels and Movies | $6.00 | EPIX, Showtime, STARZ, and more are all available for DISH Network subscribers. |
| Various Lifestyle Packages | $4 | Whether you are looking for family-friendly content, shows about the great outdoors, or even TV for your canine pal, DISH's Lifestyle Packages provide something for every member of your family. |
| Various On Demand Channels | Free | Premium content, kids shows, documentaries, the outdoors, drama, comedies, movies, faith-based content, horror…if you can imagine it, DISH Network has a channel with content tailored to your niche. |
| International Channels From Around the World | N/A* | DISH Network offers a TON of international channels from every corner of the Earth including Latino packages, East Asia, South Asia, Europe, South America, and the Middle East. |
*Speak with your DISH Network representative to learn more about the vast collection of international channels available with your subscription.
These are a few examples of some of the most common packages and add-ons available for bundling, but they don't stop there. Contact a DISH Network representative today to learn more about all the add-on packages we have available to customize your entertainment experience for one low bundle.
The Benefits of a Windstream and DISH Network Bundle for Internet & TV
When you bundle DISH Network with Windstream Internet, subscribers get to take advantage of substantial savings and one-of-a-kind entertainment features that are tailored to what you like to watch. Below are some more reasons why you should bundle your DISH Network television with Windstream's Internet services:
Why waste time searching for a television and Internet provider when you can bundle those services together and not worry about the hassle of trying to find the best deal. Bundling helps you save money and spend more time watching the content you love.
Subscribers automatically get to take advantage of DISH Network's 3-Year TV Price Guarantee, which means don't have to worry about your rate increasing after the first year. Have peace of mind knowing your rate will be the same every month! 
When you connect DISH Network to your Windstream Internet you gain more access to features such as Voice Remote powered by Google Assistant that can be connected to both Google Home and Amazon Alexa devices.
Spend less time shopping and comparing providers, get consistent billing, take advantage of incredible entertainment features, and save when you bundle DISH Network with Windstream. Bundling allows you to experience television and the Internet like never before!
How to Get Started
We understand how important it is in staying connected, and by bundling DISH Network with Windstream, you get to take advantage of the best television and Internet on the market. GoDISH helps subscribers bundle their satellite television and Internet together seamlessly to provide a hassle-free experience with entertainment tailored to you. Contact us today to see what your bundling options are so you can experience great savings instantly!